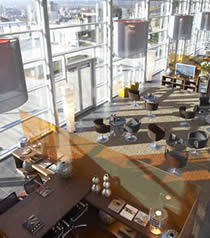 AC Hotel Palau de Bellavista public area
AC Hotel Palau de Bellavista:
Facts & Figures
Key Amenities:
• Fitness center
• Pool
• Free parking area
• Free Wi-Fi.
Services & Amenities:
• All public areas non-smoking
• Housekeeping service daily
• Laundry on-site
• Mobility accessible rooms
• Newspaper in lobby
• Room service, 24-hour
• Safe deposit boxes, front desk
• Valet dry-cleaning
• High-Speed Internet Access -
Guest rooms: Wireless
Lobby and public areas: Wireless
Meeting rooms: Wireless
• Complimentary on-site parking
• Pets not allowed
• Business Services - Copy service
Fitness:
• Fitness Centre with Cardiovascular equipment
• Outdoor pool
Towels provided
• Childrens Pool - Outdoor

Property Details:
• 2 floors , 70 rooms , 4 suites
• 6 meeting rooms, 16,146 sq ft of total meeting space
Arrival Information:
Check-in: 3:00 PM
Check-out: 12:00 PM

Accommodation:
All 74 rooms are equipped with AC amenities including Wi-Fi Internet , a mini stereo, and Flatscreen TV.
The full bathroom suites are well appointed with a bathtub, adjustable shower, and hair dryer.
Each room offers personal air conditioner, reading lights, and AC amenities.
Laundry services and 24-hour room service are available to make guests as comfortable as possible.
All the guest rooms are fully equipped with Minibar and Plasma TV with more than 20 Channels
Guest Room Information:
General Room Amenities:
Air conditioning
Bottled water, for a fee
Crib/Play Yard
Mini fridge
Rollaway bed
Bathroom Amenities
Bathrobe
Hair dryer
Room Entertainment
Color TV
Mini-bar: all rooms, beverages and/or snacks for a fee
Business Amenities
Electrical outlet: desk level
Accessibility:
• Accessible guest rooms have a 32 inch wide opening
• Meeting spaces are all accessible
• Route to accessible guest rooms is accessible
• Main entrance is accessible
• Restaurants and lounges are all accessible
• Service animals allowed for persons with disabilities

AC Hotel Palau de Bellavista terrace
Food & Beverage:
The Grill Girona Restaurant is the ideal place to spend a quiet moment in conversation with family, friends or partners while enjoying a meal.
Safari Club, located in the lobby of -1 in the hotel, is a place to relax after dinner, taking some drinks with friends and family. Open on weekends
The AC Bar is open until 23:00
Breakfast :
Buffet breakfast, fee: 13.20 EUR

Grill GironaGrill:
Reservations required
The new Grill Girona Restaurant includes delicious dishes as steak tartar, different salads, and meat from our area. All the products are ecologic and the vegetables are from the hotel's garden. Closed Sundays and Mondays
Open for lunch and dinner
Dress code: Casual
Phone: +34 972 080670
AC Bar:
Sandwiches
AC Bar open for drinks during the day, also served on the terrace.
Open for lunch and dinner
Dress code: Casual
More Options Nearby:
• Celler de Can Roca (three Michelin stars).Spanish, 4 miles
Reservations required
Phone: +34 972 222 157
• Cal RosSpanish, 0.8 miles
Phone: +34 972 219176
• Massana (one Michelin star) Spanish, 2.9 miles

• La CaléndulaSpanish, 0.7 miles
Nearby Activities:
Bike rentals 0.3 miles
Biking trail 0.1 miles
Bowling 3.1 miles
Horseback riding 20.5 miles
Jogging/fitness trail 1.8 miles
Miniature golf 4.2 miles
Mountain biking, trail 0.4 miles
Rock climbing 0.9 miles
Tennis 4.3 miles
Local Attractions:
La Catedral
Museo de Arte
Universidad de Gerona
Baños Arabes
Iglesia de San Félix
Paseo de la Muralla
Casas de Onyar

Golf Offers:
Golf Sun Holidays offers discounted rates for clients staying at AC Hotel Palau de Bellavista on Girona Golf, Golf D'Aro, Emporda Golf Club, PGA Catalunya Golf, Platja de Pals Golf, Peralada Golf.
AC Hotel Palau de Bellavista
Pujada Polvorins, 1, Gerona/Girona 17004 Spain
Official rating: 5 stars
Group: AC by Marriott
AC Hotel Palau de Bellavista is located in "Les Pedreres", a well-known residential area in Girona, and near the Barri Vell, one of the city's most attractive historical landmarks. This modern, urban hotel has 74 guest rooms in a brand new building that features superb views of the city and free parking. Guests at AC Hotel Palau de Bellavista are just a few minutes from the Call (jewish quarter), the Plaza Catalunya, the Muralla Carolingia (the city wall, unique in Europe), the Girona Cathedral, the Cinema Museum, and the Arabic baths. There is also quick and easy access to the sea and the mountains, where you can visit authentic villages in the region and enjoy the beautiful Girona countryside landscapes. The hotel is 15 minutes by car to the Celler de Can Roca restaurant, the 3 Michelin Star Restaurant.
AC Hotel Palau de Bellavista: Accommodation and Amenities
Especially recommended for: couples, foursomes, golfing groups, families, conferences
Nearby golf: Golf Girona 11.9 km, PGA Golf de Catalunya 25.2, Emporda Golf 38.9 km, Golf d'Aro 44.8 km, Golf Costa Brava 34.1 km, Platja de Pals Golf 47.1 km, Peralada Golf 55.56 km
GPS COORDINATES:
41.9788144 , 2.8284075000000257
Location Map for AC Hotel Palau de Bellavista:
Get a price quote for a golf holiday at AC Hotel Palau de Bellavista
Back to Costa Brava accommodation