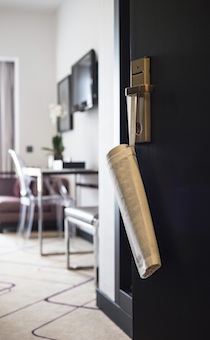 Guest room at Avani Avenida Liberdade Hotel
Avani Avenida Liberdade Hotel: Facts & Figures
Facilities and Services:
• Paid outside parking
• Paid car wash service
• Room service from 08.00 to 24.00
• Lobby lounge
• Business Center 24 open hours a day with free Internet access and basic secretarial services (printer, scanner) plus a selection of newspapers
• Laundry service
• Europcar Rent-a-Car
• 24 hour concierge service
• Olivier Avenida Restaurant
Leisure Facilities:
Avani Avenida Liberdade guests can use the leisure facilities the Tivoli Avenida Liberdade (next door).
• Sky Bar
• Outdoor swimming pool
• Pool Bar (May-September)
AvaniFit:
Stay healthy and in high spirits whilst on holiday. Feel free and full of energy with AvaniFit. There is a wide range of cardio equipment and state-of-the art strength machines. Swim laps with bursting sunshine in the outdoor pool. Get in the sauna afterwards to loosen up.
Internet Service:
• WI-FI in public areas and meeting rooms
• Broadband Internet in rooms
• Analogical line in rooms
Accommodation:
Welcome to your own urban oasis. Watch the sun burst over the city from your room. Relax in a contemporary space abounding with amenities and natural light. Fall asleep feeling blissful. Avani Lisbon's rooms are designed with your total comfort and peace of mind. This is the easy choice for relaxation.

Avani Rooms
These 42 rooms of around 18 m² have views of the Oriente Foundation garden. They are located on floors 1 to 7 of the hotel. They have a King Size bed or twin beds, an armchair and a fully equipped bathroom. Guests also have a desk and a Nespresso coffee machine. Ideal for 2 adults.

Avani Premier Rooms
These 50 rooms of around 22 m2 have a balcony with views of the city of Lisbon and are located on floors 1 and 7 of the hotel. They have a King Size bed or twin beds, an armchair and a fully equipped bathroom. Guests also have an executive desk and a Nespresso coffee machine. Ideal for 2 Adults; Acceptable for 3 adults or 2 Adults and 1 Child.

Avani Deluxe Rooms
These 20 rooms are like the premier rooms and are also 22 square metres. They have city views from the highest floors and all the details that matter. Free Wi-fi.
Avani Family Rooms
These 7 rooms are like the premier rooms and are also 22 square metres. Acceptable for 3 adults or 2 Adults and 2 Children. Free Wi-fi.
Restaurant and Bar:
Feast on innovative Mediterranean and Japanese fusion delights. Find a tempting variety of honest, satisfying flavours and culinary creativity. Savour a special meal or holiday indulgence.
Olivier Avenida:
7:00 am – 12:00 midnight
Mediterranean and Japanese delights from one of Lisbon's
most celebrated chefs.
In-room Dining:
8:00 am – 12:00 midnight
Don't leave your room –they'll bring the restaurant to you.
Children:
Babysitting Service:
• On request - booking required 24 hours in advance
• Where: in your room, public areas of hotel and outside the hotel with authorization from guardians
• Babysitter recommended by the hotel
• Maximum 3 children per babysitter
Meeting, Events and Wedding Facilities:
Imagine your event in the Palacete – a stunning early 20th century Portuguese palace. Inspiring views over a verdant garden await, along with 7 meeting rooms for up to 322 delegates. Your friendly planner is on hand to help you with every detail. Executive boardroom, banquet hall or terrace – pick your stage to mix, meet and mingle. For even larger events, combine the Palacete's venues with the spaces of their neighbouring sister property, the Tivoli Avenida Liberdade.
Nearby:
Enjoy medley of sun, ocean and sand. Get active exploring the city or escaping off the coast. Whether you want to relax, get an adrenaline rush or do as the locals, you're covered.
Distance:
Avani Lisbon is located just eight kilometres from Lisbon
Airport and directly outside Avenida metro station on Lisbon's main boulevard, Avenida da Liberdade.
Golf Offers:
Golf Sun Holidays offers reduced green fees on the following golf courses for clients staying at Avani Avenida Liberdade Hotel: Aroeira I and II, Belas Clube de Campo, Bom Sucesso, Campo Real , Estoril Golf, Lisbon Sports Club, Penha Longa, Praia D'el Rey, Pestana Beloura, Quinta da Marinha, Oitavos Dunes, Quinta do Peru, Royal Obidos Golf , Ribagolfe I and II, Santo Estêvão, Tróia Golf
Avani Avenida Liberdade Lisbon Hotel
Rua Julio Cesar Machado 9, 1250-135 Lisbon, Portugal
Official Rating: 4 stars
Group: Minor Hotels
Golf Sun Holidays Avani Lisbon Golf Package:
7 Nights accommodation at 4-star Avani Avenida Liberdade Hotel in Lisbon, with daily buffet breakfast included; 5 rounds of golf at Quinta da Marinha, Belas Clube de Campo, Estoril Golf Club,Oitavos Dunes, Lisbon Sports Club
Please enquire for current prices
Enquiries: Avani Avenida Liberdade Golf Package
Discover Lisbon's charm from the perfect setting. Where contemporary style meets peace of mind. Avani Lisbon is an oasis in the heart of Portugal's capital, conveniently close to shopping, attractions and more. Sip cocktails atop the city in a sky bar at the sister hotel Tivoli Avenida Liberdade (next door). Wake up muscles in the morning in the state-of-the-art AvaniFit fitness centre. Culture, romance and adventure right at your fingertips. There are 8 Golf courses within 20 kms and 19 Golf courses within easy driving distance from the hotel.
Avani Lisbon: Accommodation and Amenities
Especially recommended for:
Couples, foursomes, golfing groups, families.
Recommended Nearby Golf:
Lisbon Sports Club 19 Km.
Belas Clube de Campo 20 Km.
Aroeira I and II 25 km.
Estoril Golf 25 Km.
Pestana Beloura 25 Km
Penha Longa 29 Km
Quinta do Peru 34 Km
Quinta da Marinha 35 Km.
Oitavos Dunes35 Km
Ribagolfe I and II 52 Km.
CampoReal Golf 53 Km.
Santo Estêvão 66 Km.

Avani Lisbon Location Map:


Get a price quote for a golf holiday at Avani Avenida Liberdade Lisbon
Back to Lisbon, Cascais & Silver Coast Accommodation