Morgado Golf & Alamos Golf
Morgado do Reguengo Golf Resort, Portimão, Algarve, Portugal
Morgado Golf
Morgado Golf is located near Portimão on the way to Monchique (about 6 km from Praia da Rocha). The Morgado Course is 18 holes, par 73 and 6399 metres from the professional tees. This is a very enjoyable course, away from the madding crowd, lined with vineyards and fig trees on the course. The front nine is flatter with lakes and the back nine is more rolling. There are large greens. It can be played by players of all levels, but long hitters will especially enjoy this course. To compensate for its length, there are generous wide fairways. However, less accurate strokes may be penalized by one of several bunkers. It has been said that Morgado Golf is a course with the characteristi of a links — with flat fairways and Scottish inspired bunkers — but instead of being close to the shoreline, it has been inserted into an area of parkland. Its Clubhouse offers stunning panoramic views over the course and surrounding nature.
Alamos Golf
Located within the Morgado do Reguengo Resort, Álamos Golf is the second 18-hole course of this countryside retreat with the Monchique Mountains and the estate's vineyard as backdrop. Álamos Golf is a short but stunning test for golf. Having great views of the Monchique mountains, lakes and farmland, there is a real sense of getting away from it all here. It's shorter than Morgado (Par 71) but it has all the features necessary to fulfil the expectations of the most demanding player. Alamos Golf has large raised greens and requires good putting technique. Two large water reservoirs and an orange grove complete the scenic portrait of this golf course.
Views of Morgado and Alamos golf courses
Discount Green Fees & Book Tee Times
We offer our clients guaranteed tee times with discount green fees on Morgado and Alamos Golf for all clients.
Morgado and Alamos Golf Location Map:
Get a price quote for a golf holiday including Morgado and Alamos Golf Courses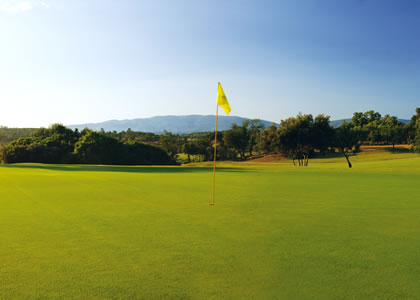 Morgado and Alamos courses have great views of the Monchique Mountains
Morgado Golf & Alamos Golf:
Facts & Figures
Morgado Course
18 holes Par 73

White 6399 meters, CR 72.7, SR 129

Yellow 5857 meters, CR 70.0, SR 123

Red 4824 meters, CR 69.7, SR 118
Designer: European Golf Design
Opened: 2003
Alamos Course
18 holes Par 71

White 5641meters, CR 68.8, SR 127

Yellow 5055 meters, CR 67.7, SR 124

Red 4291 meters, CR 68.6, SR 119
Designer: Russell Talley
Opened: 2006
Facilities:
2 Driving Range tees, 2 Chipping Greens, 2 Putting Greens, Bar, Restaurant, Clubhouse, Trolley, Buggies, Pro-shop, Club Rentals.
Handicap Restrictions:
Men 28, Ladies 36
Get a price quote for a golf holiday at including Morgado and Alamos Golf