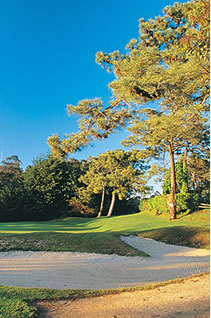 Estoril Golf

Estoril Golf:
Facts & Figures
Estoril Course
18 holes, Par 69

White 5175 metres
Rating 68.4, Slope 123

Yellow 4889 metres
Rating 66.8, Slope 120

Blue 4586 metres
Rating 69.5, Slope 123

Red 4368 metres
Rating 68.7, Slope 119
Estoril Blue Course
9 holes, Par 34

White 4742 metres (2 x 9 holes), Rating 64.6, Slope 116

Yellow 4662 metres (2 x 9 holes), Rating 64.5, Slope 114

Blue 4472 metres (2 x 9 holes), Rating 67.7, Slope 119

Red 4380 metres (2 x 9 holes) , Rating 67.1, Slope 118
Open: 1929
Architects:
Jean Gassiat (1929, 9 holes); Mackenzie Ross (1945)
Facilities:
4 professionals/teachers (1 Scottish, 1 German and 2 Portuguese); Short game area and the Blue Course, a 9 hole course (par 34) which is very special for teaching and for beginners, where no handicap is required.
Clubhouse:
Estoril Golf Club features an elegant Clubhouse attractively situated in a pine forest setting. Excellent facilities include a good restaurant, 2 bars, swimming pool and Pro Shop.
Restrictions:
Handicap is required to play the championship course. Tee times on weekends and holidays are subject to availability. Players must respect dress code. The use of soft spikes is required.
Estoril Golf Club
Estoril, Estoril Coast, Portugal
At Estoril Golf Club, one of Portugal's oldest courses, guests can enjoy a spectacular round of golf in the most beautiful surroundings. Part of a protected landscape, the first and last three holes are laid out in a pine wooded valley studded with granite outcrops; holes 6-13 are on a hill with fabulous views to the sea and mountains. Four times host to Portuguese Open. Owned by the Hotel Palácio and designed by the famous architect Mackenzie Ross, this stunning 18 hole course is a par 69 with 5175 metres, surrounded by colourful flora, including mimosas, pine and eucalyptus trees. Besides the main course there is a 9 hole course, which provides the perfect location for less experienced players, improve your handicap.

Estoril Golf: Views of the course
Discount Green Fees & Book Tee Times
We offer our clients guaranteed tee times with discount green fees on Estoril Golf Club
Book Tee Times

Estoril Golf Location Map:




Get a price quote for a golf holiday including Estoril Golf Club
Back to Lisbon, Cascais & Silver Coast Accommodation
Back to Home Page