La Galiana G
olf Club
Barraca de Aguas Vivas, Carcaixent, Valencia, Spain
La Galiana Golf is a demanding and entertaining golf course, with wide and well defined fairways, with some spectacular views. The design of each hole is challenging even for the most accomplished players and yet handicap players can also enjoy a enjoyable day of golf. The layout of the greens and bunkers and the dozens of water hazards will test the player's skills, and you will be obliged to use the best strokes in your repertoire.
Views of La Galiana Golf Club
Discount Green Fees & Book Tee Times
We offer our clients guaranteed tee times with discount green fees on La Galiana Golf Club

Green Fees

Book Tee Times
La Galiana Golf Club Location Map:


Get a price quote for a golf holiday including La Galiana Golf
Back to Costa Blanca Accommodation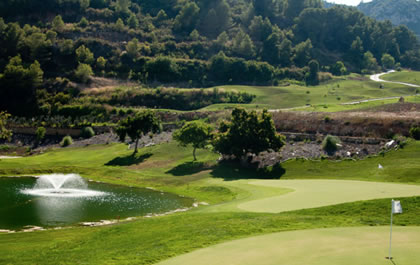 Water near a green at La Galiana Golf Club

La Galiana Golf Club: Facts & Figures
18 Holes, Par: 72 (36 and 36)


White 6201 metres


Yellow 5890 metres


Blue 5890 metres


Red 5050 metres
Designer:
Moon Masters
Type of grass:
Fairways: 80% Lolium perenne. 20% Poa pratensis
Rough: 35% Festuca arundinacea, 35% Poa pratensis, 30% Lolium perenne
Greens: 100% Agrostis stolonifera
Tees: 40% Lolium perenne, 20% Festuca rubra conmutata, 20% Festuca rubra tricophylla, 20% Poa pratensis
Buggy tracks:
Only tees to greens tracks
Facilities:
La Galiana Golf Course has 2 putting greens, bunker area for practicing short and long shots, an area with practice mats and the possibility for hitting balls on real grass. The practice course balls are from Callaway.
Teeing intervals:
10 minutes
Restrictions:
Handicap requirement of 28 for Men and 36 for Ladies and soft spikes only.
Get a price quote for a golf holiday including La Galiana Golf