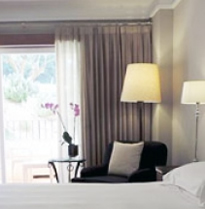 Deluxe room at Hotel Príncipe Felipe, La Manga Club
Príncipe Felipe Hotel, La Manga Club: Facts & Figures
Facilities
Guests at Príncipe Felipe 5* Hotel can enjoy the luxurious facilities which include La Manga Club Spa. Within this 2,000 m2 building is a 25-metre indoor pool, steam rooms, saunas, thirteen treatment rooms and fully equipped, state of the art fitness centre. The spa building is located at Las Lomas Village 4* Apartments, just a 2-minute ride from the hotel on our free shuttle service.
The hotel also has a heated outdoor swimming pool with an average temperature of 22ºC (closed during the winter season, please ask for more information), a Royal Club that offers exclusive benefits, a Lobby Bar, Piano Lounge Bar and The Amapola Restaurant,, the hotel's signature restaurant. All this is in addition to the further fifteen bars and restaurants which can be found throughout the resort.

Services
The Príncipe Felipe 5* Hotel offers all guests the following services and amenities:
• 24-hour reception and room service
• Customer service centre
• Free parking
• Free WiFi
• Complimentary shuttle service around the resort
• Amapola restaurant, Lobby bar and The Piano Lounge Bar, within the hotel
• Pool with Sol y Sombra restaurant
• Children's entertainment programme
• Free Junior Club for kids aged 5 to 12 years
• Meeting rooms and banquet facilities for celebrating events
• Special rates on most of the activities and sports within the resort
• Hairdresser service at La Manga Club Spa
• Shuttle service to and from the airport (by prior arrangement with our customer service centre)
Accommodation:
The Príncipe Felipe 5* offers a wide range of rooms and exlusive services that will allow maximum satisfaction during your stay. For example, free access to the saunas, steam rooms, indoor pool, and the gym in Spa La Manga Club, which is situated in Las Lomas Village 4*, as well as 24 hour room service. Additionally, the hotel offers a free internal transport system for its guests. As well, it is the ideal choice for families as children between the ages of 5 and 12 that are staying in the hotel have free access to the Junior Club.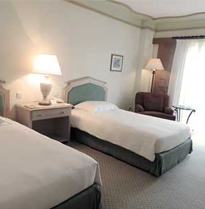 Classic Standard Room
Buffet breakfast at Amapola Restaurant, Fitness pass, Air conditioning/Heating, Hair Dryer, Wi-Fi, TV
Deluxe Room
Buffet breakfast at Amapola Restaurant, Fitness pass, Air conditioning/Heating, Hair Dryer, Wi-Fi, TV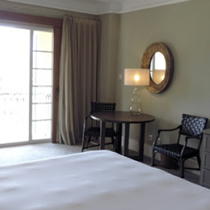 View Deluxe Room
Buffet breakfast at Amapola Restaurant, Fitness pass, Air conditioning/Heating, Hair Dryer, Wi-Fi, TV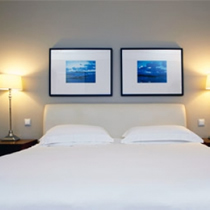 Terrace Room
Buffet breakfast in Amapola Restaurant, Fitness pass, Air conditioning/Heating, Hair Dryer, Wi-Fi, TV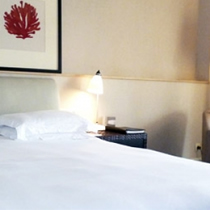 Royal Club Room
Welcome amenity.
Access to the private Royal Club Lounge with drinks included.
VIP access to all areas of Spa La Manga Club.
Air conditioning/ Heating, Hair Dryer, Wi-Fi, TV
Executive Suite Room
Pillow menu.
Daily newspaper.
VIP access to all areas of Spa La Manga Club.
Air conditioning/ Heating, Hair Dryer, Wi-Fi, TV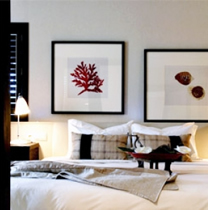 Executive Suite Royal Club Room
Welcome amenity.
Access to the private Royal Club Lounge with drinks included.
VIP access to all areas of Spa La Manga Club.
A la carte pillow menu.
Air conditioning/ Heating, Hair Dryer, Wi-Fi, TV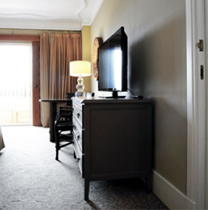 Family Room
Free Junior Club for children aged 5 to 12.
Free access to saunas, steam rooms, indoor pool and gym at Spa La Manga Club.
Free Kids' meals for children aged 5 or under.
Air conditioning/ Heating, Hair Dryer, Wi-Fi, TV
Royal Club Family Room
Exclusive Royal Club benefits
Free Kids' meals for children aged 5 or under.
Free Junior Club for children aged 5 to 12.
Air conditioning/ Heating, Hair Dryer, Wi-Fi, TV

Bars & Restaurants at the Príncipe Felipe Hotel
The Príncipe Felipe 5* Hotel has two restaurants and two bars:
The Amapola Restaurant, the Hotel's signature restaurant, offers elegant surroundings and the highest levels of service and cuisine.
Sol y Sombra restaurant, located alongside the Hotel's outdoor pool, provides a more informal setting to our dining experience, while still maintaining the high standards of our luxury hotel.
Also, inside there hotel there is:
The Hotel Lobby Bar, in the Hotel reception, provides a peaceful setting in which to relax and enjoy a quiet drink.
The Piano Lounge Bar offers a sophisticated ambience and is the ideal place for a drink before or after dinner with regular live music and an extensive cocktail menu.
The new Chillout Terrace next to the banquet halls, with an elegant and relaxed enviroment, perfect for enjoying an exotic cocktail or a drink - all of this with live music.
Sports & Leisure at La Manga Club:
Golf at La Manga Club:
Sport Star La Manga Club are the 3 championship golf courses. The quality of the facilities, training courses and organizing events and competitions has earned La Manga Club numerous times by prestigious international awards.

Tennis Centre:
The quality of the facilities at La Manga Club's 28-court Tennis Centre makes it one of Spain's finest outdoor facilities. It has played host to prestigious events such as Davis Cup matches, the Fed Cup and ATP tournaments. Today it is an official partner of Tennis Europe (the European Tennis Federation) and an LTA overseas training base.
Complementing the courts is a Tennis Academy, which offers tailored tennis coaching for players of all ages and levels.

Football at La Manga Club:
Eight natural grass FIFA standard size soccer pitches, coupled with the resort's other facilities, makeLa Manga Club Football Centre a prime training and competition venue for top international clubs and national squads.
It is also the ideal setting for our own junior football academy, which is run by FA / UEFA qualified coaches for children of different ages and levels, as well as for sports campuses organised by renowned clubs at both national and international level.

Cricket at La Manga Club:
La Manga Club offers the best facilities in Spain for training in and playing cricket.
The resort is used by ICC Europe for academies, Centres of Excellence and tournaments and is also home to the Spanish National Cricket Team and La Manga Cricket Club.
Its pitches are the venue for all major Spanish tournaments and attract visiting sides from the UK, Europe and Asia primarily.
La Manga Club junior cricket academy provides tailored coaching for all ages and levels.
Rugby at La Manga Club:
The quality of the facilities, the wonderful surroundings and great weather make La Manga Club one of the most popular rugby training destinations in Spain. The resort has played host to a number of top rugby union and rugby league teams from the UK and Ireland, as well as national squads. The ideal venue for pre- or mid-season training in unbeatable surroundings.
La Manga Club has two purpose-adapted rugby pitches, a full range of training equipment (scrummage machine, tackle bags, hurdles and massage benches, etc), changing rooms, press centre and a specialist in-house sports group team. Players can also make use of the professional standard fitness facilities and spa.
The junior rugby academy is run by qualified coaches and offers programmes for different ages and levels.
Triathlon at La Manga Club:
La Manga Club is the ideal training destination for triathletes, with everything you need for all the disciplines that make up the sport:
A semi-olympic indoor pool.
Open water swimming nearby.
A huge variety of on- and off-road cycling routes.
And numerous trails and running routes in and around the 1400-acre resort.
For those seeking to take their training to the next level, expert guidance is available at the Spa La Manga Club fitness centre.
Triathletes can also benefit from the services of the High Performance Sport Centre (CIARD) in the Spa building.

Other Sports:
The magnificent natural surroundings mean that it is possible to enjoy a whole range of sports and leisure activities all within the local area.
From scuba diving, horse riding, mountain biking, running and rambling to more specialist sports such as Gaelic football, netball or lacrosse.

Junior Club:
Junior Club is the ideal place for your children to have fun in a friendly, secure environment while you enjoy a well-earned break, play sport or relax at the spa.
Open all year round and located near the Tennis Centre, it offers wonderful facilities and activities for children aged 3 months to 12 years*. Click here to see the special programme for this summer at the Junior Club (4 years old and younger) Mini Club (5 - 7 years old) and the Junior Club (8 - 12 years old).
(Monday to Friday in low season, 7 days a week in Summer and Easter). Sessions should be booked at least 48 hours in advance and are subject to availability (limited places available). Children of 5 to 12 years staying at Hotel Príncipe Felipe 5* or Las Lomas Village 4* are entitled to free sessions.
Special Christmas programme: from 26th - 31st December

La Manga Club Academies:
La Manga Club's junior academy courses are designed to help youngsters enjoy their favourite sport, improve their skills and team work, whilst having fun and making friends in an atmosphere of healthy competition. All sports offer junior coaching programmes.
Golf
Tennis
Football
Rugby
Thriatlon
Cricket
Options for adults includes:
the Golf Training Centre,
the Tennis Academy, the Triathlon Academy,
and the High Performance Football Centre.
Dining in La Manga Club
Nowhere is La Manga Club's unique and distinctive personality better reflected than in its restaurants. Here you can experience the culinary artistry of our chefs, with exquisite menus prepared using carefully selected ingredients, outstanding service and spectacular surroundings.
Enjoy wonderful evenings discovering our restaurants, each with its own distinctive ambience and cuisine.

Amapola Restaurant
The Amapola Restaurant, located in the Príncipe Felipe 5* Hotel, is the ideal place to taste delicious and traditional cuisine, all of which is made with seasonal products that is grown locally.
It's relaxing and elegant atmosphere, as well as the high quality of the service, will allow you to enjoy anexcellent gastronomic experience when visiting restaurant or celebrating a private event in one of the Hotel's meeting rooms.

Asia Restaurant
The exotic specialities at Asia restaurant in Las Sabinas are not to be missed and offer a taste of south-east Asia without setting foot outside of the resort.
Chef Paiman's dishes are marked by a fusion of cultures that turns every meal into a fascinating and unforgettable experience.
Vibrant colours and textures, a tantalising variety of fresh fruit and vegetables and an explosion of flavours and aromas in every bite... The menu also features vegetarian dishes and there is a terrace for summer dining al fresco.
*Opening may vary. We recommend you check in advance.
From 6th November 2016, this restaurant will be closed two days a week: Sundays and Mondays

La Bodega Restaurant
La Bodega the ideal place to enjoy typical Spanish tapas prepared with the finest fresh local ingredients.
The culinary traditions of the Murcia Region provide a common thread running throughout the menu: fresh local vegetables, local specialities such as zarangollo, salads and rice dishes… as well as favourites from right across Spain.
It also boasts a terrace (open seasonally) and a great selection of the finest Spanish wines.

Luigi Restaurant
Discover the Luigi Restaurant, a trip to the Tuscan countryside, win which you will be able to taste flavoursome antipasti, delicious pizzas and fresh pastas with an authentic and traditional taste of Italian cuisine from this picturesque region.
Enjoy the best Italian food in a unique and relaxed environment, watered down with a glass of excellent wine from the extensive list on offer.
The restaurant has two funtion rooms available for private celebrations
Open 7 nights a week for dinner all year round.
*Opening may vary. We recommend you check in advance.

Dharma Restaurant
One of the most exotic options at Las Lomas Village is Dharma restaurant, which specialises in Indian cuisine. Meat, vegetables and rice seasoned with aromatic spices and served in a stylish setting with modern décor and some of the most spectacular views across the resort towards the Mar Menor.
*Opening days / times may be subject to change.
Dharma is closed from 29th October 2016

La Cala Restaurant
Nestled on a rocky outcrop right by the sea at the Cala del Barco, La Cala restaurant is located in one of the most spectacular settings in the resort and the entire south-east Mediterranean coast.
Frequently cited as one of the region's most romantic restaurants, it offers fresh fish and seafood in idyllic surroundings overlooking the Mediterranean beach cove that gives it its name.
*Opening may vary. We recommend you check in advance.
From 6th November 2016, this restaurant will be closed.

Other restaurants:
Sol y Sombra
Uncle Sam's
La Princesa
Meat Point
La Manga Club's restaurants offer a vibrant and tempting choice of cuisine: Italian, Spanish, Asian, Indian or American are but a few of the options.
Complementing these are a number of restaurants, which are open seasonally or at specific times of year.
Let yourself be tempted our chefs' creations while you enjoy the magnificent views from our restaurant terraces.
Let yourself be inspired by the multitude of flavours, textures and gastronomic delights from around the globe that La Manga Club's restaurants offer an enticing experience in a unique setting.
Bars & Cafés:
La Pérgola
The Piano Bar
Tie Break café
Mulligan's Pub
Lobby Bar
Splash
37 Spike & Sports Bar
Deli Café
La Manga Club's bars and cafés are ideal for enjoying refreshments with family or friends, with a wide choice of drinks, snacks, salads and sandwiches on offer.
Open throughout the day for breakfast or lunch.
Spa at La Manga Club
La Manga Club is the perfect place to relax and pamper both mind and body.
Choose from over 50 different treatments, from the most classic to the most exotic, such as the well-known Hawaiian massage.
Spa facilities include:
treatment rooms
spa circuit
saunas and steam rooms
a fitness centre
a boutique
a 25-metre indoor swimming pool. (Please, check the downtime for maintenance).
There is no better way to recover after an intense day at work or sports competition.
Treatments and Massages
Spa La Manga Club offers a wide array of spa treatments and massages, from all-time classics to the original and exotic:
Facial and body treatments using natural products.
Classic massages and treatment packages combining options such hydrotherapy.
Reflexology.
Manicures.
Thai massage.
Aromatherapy etc.
Classic Treatments
Let the specialist team of spa therapists help you choose between the wide array of classic massages and treatments on offer:
Holistic treatments (choose from around a dozen different options including couple's programmes, slimming, relaxing, anti-cellulite, vitamin, etc)
Massages (aromatherapy, reflexology, pregnancy, hands and feet, neck, hot stone, etc)
Body treatments (thermal baths, scrubs, etc)
Facials (Ecologic Cosmetics or Natura Bissé Deluxe treatment lines)
Hair and beauty (waxing, nails, hair colour, make-up etc)
Natura Bissé Treatments
High Performance Centre (HPC)
La Manga Club is home to a High Performance Centre (HPC), is a state-of-the-art facility that has been developed to research, evaluate, measure and offer consultancy on sports performance and health, both to the general public and to amateur and elite professional sports people.

Events
La Manga Club with both its privileged location and 2,300m² of facilities makes it the perfect place forall types of events:
Corporate
Weddings
Communions
Baptisms
All other special occasions.

Special Golf Offer:
Golf Sun Holidays offers reduced green fees for clients staying at La Manga Club on La Manga North, La Manga South, La Manga West, Lorca Golf, Alhama Signature , El Valle, Hacienda Riquelme , Hacienda del Alamo, La Torre ,Mar Menor Golf , Roda Golf , Saurines de la Torre (15 min) , La Peraleja
Hotel Príncipe Felipe,
La Manga Club
Official Rating: 5 stars
Los Belones, Cartagena (Murcia) Spain

La Manga Club is an exclusive vacation, sports and leisure resort located in a privileged setting bordered by natural parks and unspoilt beaches, offering luxury, leisure and sport with wonderful weather all year round. Covering an area of 1400 acres (560 Ha.), the resort offers exclusive accommodations, first-class professional sports facilities and fine dining, ideal for those seeking exceptional tranquillity, security and privacy, coupled with superlative service.

Ever since it opened in 1972, La Manga Club has attracted holidaymakers and sports teams with its outstanding facilities, all designed to the highest international standards. These include:
a five-star hotel
a four-star apartment-hotel
three golf courses
a 28-court tennis centre
eight FIFA-standard football pitches
2,000m2 Spa and Fitness Centre.
All of which has earned La Manga a reputation as Europe's best sports and leisure resort, winner of numerous international awards and accolades. La Manga Club offers each and every guest a unique experience. Come and discover your very own La Manga Club experience.
The Principe Felipe 5* Hotel is a luxury hotel with an elegant decor, 192 rooms designed for maximum comfort, a selection of restaurants and bars and all of this is combined with spectacularviews of the golf course, swimming pool, the Mar Menor and the Calblanque Natural Park.
Accommodation and facilities at La Manga Club
Especially recommended for: couples, foursomes, families, golfing groups.
Resort Golf: La Manga Club Golf (3 championship courses + pitch and putt course)
Awards & Accolades:
• Top 5 Worldwide Golf Resorts - Ultra Awards by the Telegraph's Ultratravel magazine
• Top 75 Worldwide Tennis Resorts (Tennis Centre) - Tennis Resort Online
• Top 100 golf courses in Europe (West, North & South courses) - Golf World Magazine
• Best corporate web in Murcia Region - La Verdad newspaper • Web awards 2014 & 2015
• Best Golf Hotel in Spain - World Golf awards 2014
• Best Golf course in Spain (South Course) - Today's Golfer • Readers' awards 2014
Nominee World's Best Golf Resort - Telegraph Ultratravel Award 2014
• Best Golf Resort/Hotel in Spain - Today's Golfer Award 2011,2012, 2013, 2014 & 2015
Nominee Europe's Leading Golf resort - World Travel Awards 2013
• Nominee Europe's Leading Villa resort - World Travel Awards 2011, 2012 & 2013
• Certificate of Excellence 2013- TripAdvisor®
• Best Hotel / Golf Resort in Spain - Today's Golfer Readers' awards 2011, 2012, 2013 & 2014
• Recommended best Family friendly European Resort 2011 - The Sunday Times Travel Magazine Readers' awards
• Best Spa overseas 2011 & 2012 – Gold list - CondeNast Travel Magazine
• Best Overseas Conference Hotel - Silver - Conference & Incentive Travel Magazine Hot List - 2010
La Manga Club Location Map:
Get a price quote for a golf holiday at La Manga Club