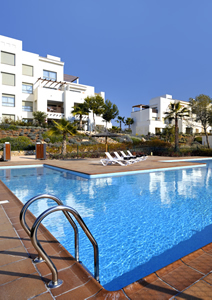 Las Colinas 2 and 3 bedroom apartments and communal pool
Residences at Las Colinas Golf & Country Club:
Facts & Figures
Accommodation:
2 bedroom apartment
2 bedrooms, 4 single beds, 1 sofa bed in the sitting room, 2 bathrooms, communal pool, free wifi, 2 TVs, international channels, 2 km to club house, heating and air conditioning

3 bedroom apartment
3 bedrooms, 6 single beds OR 4 single beds and 1 double bed, 2 bathrooms, communal pool, free wifi, 2 TVs, international channels, 2 km to club house, heating and air conditioning|

3 bedroom villa Perdiz
3 bedrooms, 6 single beds OR 4 single beds and 1 double bed, 2 bathrooms, communal pool, free wifi, 2 TVs, international channels, 2 km to club house, heating and air conditioning

3 bedroom villa Abejaruco
3 bedrooms, 6 single beds OR 4 single beds and 1 double bed, 3 bathrooms, communal pool, free wifi, 2 TVs, international channels, 2 km to club house, heating and air conditioning
3 bedroom villa Abejaruco Jacuzzi
3 bedrooms, 2 double beds, 1 single bed + 2 bunk beds, 1 sofa bed in sitting room, 3 bathrooms, jacuzzi, communal pool, free wifi, 2 TVs, international channels, 2 km to club house, heating and air conditioning

4 bedroom villa Malvasia
4 bedrooms, 4 single beds and 2 double beds, 4 bathrooms, communal pool, free wifi, 2 TVs, international channels, 2 km to club house, heating and air conditioning

3 bedroom villa with private pool Ruseñor
3 bedrooms, 4 single beds and 1 double bed, 1 sofa bed in sitting room, 2 bathrooms, private swimming pool, free wifi, 2 TVs, international channels, 2 km to club house, heating and air conditioning
Services included:
• Left luggage service.
• Reception
• Round-the-clock security.
• Bathroom welcome kit.
• Change of sheets and towels and cleaning service every seven nights.
• Wifi.
• TV in lounge and master bedroom with access to international channels.
• Fully equipped kitchen.
• Air conditioning and heating.
• Parking space.
• Communal pool and children´s playground.
• Access to the Beach Club, charges may apply.
• Discount on green fees, golf classes, and buggies.
• 10% discount at the golf shop, UNiK CAFÉ and enso sushibar.

Services not included:
• Welcome Pack
• Extra change of sheets and towels on request.
• Extra cleaning service on request.
• Breakfast, lunch and dinner at UNiK CAFÉ.
• Cot.
• Extra bed (Sofa bed for children).
• Bicycle rental.
• Golf.
• Golf school.
• Tennis.
• Padel tennis.
• Gymnasium.
• Kids' Club programme.
• Road buggy rentals.

Restaurants and Bars:
UNiK CAFÉ
Located in the Clubhouse, UNiK café serves fine food, designed to satisfy the different tastes of an international clientele. Its cuisine, which is simple but based on top quality ingredients, reinvents classic dishes by adding a touch of balanced creativity.
UNiK Café opens up to the outside through its magnificent outdoor terraces with views over the lake at hole 18 of Las Colinas golf course. For special celebrations, it also has a private dining room seating 30 people.
Opening hours
7.00am - 23.00pm. Breakfast 7.00am -10.30am.
Food served until 10.30pm.
Enso Sushibar:
Enso Sushibar (at the Clubhouse) offers customers the elegance, harmony and simplicity that characterises Japanese cuisine, in the hands of experienced chefs who lavish attention on every detail of the dishes they serve.
Sampling sushi at enso is a truly unique experience, not just because of the wide variety of sashimi and high quality sushi served there but also due to the bar's great setting, with spectacular views over the Las Colinas 18-hole championship golf course.
Beach Club:
Just a few minutes away from Las Colinas Golf & Country Club, on the seafront at La Glea beach in Campoamor, there is a private hideaway overlooking the sea: Las Colinas Beach Club.
It is the perfect place to get away from it all and to enjoy the sun, sand and sea: reclining on a sun bed beside the infinity pool or sitting on the deck of the café bar among magnificent palm trees, with idyllic views over the Mediterranean.
Sports facilities:
Las Colinas Golf & Country Club is developing new extended sports amenities, which are expected to open August 2018. This initiative aims to offer more comprehensive facilities, on a bigger site and near the entrance to the Golf & Country Club.

These new amenities will include:
• 1 Multi-sport court.
• 3 Paddle tennis courts.
• 3 Tennis courts.
• Gym
Mountain Bike Circuit
The mountain bike circuit runs through beautiful countryside, with lemon and orange groves and thick Mediterranean woodland.
The 4,500-metre circuit has gentle slopes and is attractive for both amateurs and professionals. It can be completed in 30 minutes at a relaxed pace.
Walking & Cycling
A scenic walk over 3 km long through Mediterranean woodland connects the Clubhouse with a natural park of over 200,000 sq. metres. Unique surroundings for walking, jogging, cycling or simply enjoying nature.
Golf
The Las Colinas Golf course extends across the valley between the hills, adapts to the unusual lie of the land and blends naturally into the landscape. The width of its fairways, the design of its extensive undulating greens, and the numerous tees at each hole give it great versatility and mean that it is suitable for professional competitions, while also offering any player a pleasant, enjoyable and affordable game.
Shopping:
The commercial services offered by Las Colinas Golf & Country Club now includes a Mini Market near the Clubhouse.The Mini Market covers the basic daily needs of residents at the Golf & Country Club for food, cleaning and personal care products. They offer dairy products, soft drinks, ice cream, liqueurs, fruit and vegetables, meat and cold meat, as well as cleaning and personal care items.
The opening hours is from 9am to 7pm, Monday to Friday and 9am to 3pm and from 4pm to 7pm on Saturday.
Nearby:
• Ballooning
• Diving School
• Customised tours
• Wine tours
• Sailing charters
• Fishing on the Mediterranean sea.
Water Sports
Just a few minutes from Las Colinas there are 16 km of Mediterranean coastline, with cliffs bathed by transparent waters and sandy beaches such as La Zenia, Cabo Roig and Campoamor. Residents and owners from Las Colinas Golf & Country Club can also enjoy an exclusive haven on the seafront: Las Colinas Beach Club.
The Mar Menor is only a few kilometres from Las Colinas Golf & Country Club. It is the biggest salt-water lagoon in Europe, separated by a long sandbar from the Mediterranean sea, Keeping its waters calm.
The Mar Menor is unbeatable for practising sailing and other water sports all year around in Europe.

Beaches
Every year the Orihuela beaches are awarded blue flags, as they comply with European Union environmental regulations. The wide choice of beaches is complemented by the many marinas in the area, such as the Cabo Roig Marina, Campoamor Sailing Club, the Villa de San Pedro and Torre de la Horadada marinas. The calm waters and the gentle Levante breezes are ideal for sailing, windsurfing, canoeing and water-skiing.

Golf Offers:
Golf Sun Holidays offers reduced green fees for all clients on Las Colinas, Campoamor, La Marquesa, Vistabella, Villamartin Golf, Las Ramblas Golf ,La Finca Golf, Roda Golf, Alhama Signature, Saurines de la Torre, Mar Menor, La Torre , El Valle Golf Club , Hacienda Riquelme, Lo Romero golf courses.
Residences at Las Colinas Golf & Country Club
Orihuela Costa, Alicante, Costa Blanca, Spain
Type: Villas and Apartments
Enjoying a privileged location to the south of Alicante, very close to the coast and extremely well connected by road, rail and air, Las Colinas Golf & Country Club is built around one of the top 100 golf courses in continental Europe.The host of sporting and leisure activities available, quality amenities and the beauty of the natural surroundings make Las Colinas the perfect place to enjoy your golf holiday.
Staying at accommodation in Las Colinas Residences offers a world apart of advantages for a weekend break, long holidays or group events held over several days.
You can choose between modern, two- and three-bedroom apartments and three- and four-bedroom villas. Homes come fully equipped and have large gardens or terraces, a parking space and common green areas with a swimming pool. Some of the villas have a private pool.
Villas, apartments and facilities at Las Colinas Golf & Country Club
Especially recommended for:
Couples, foursomes, families, golfing groups, conferences
Resort Golf: Las Colinas Golf
Recommended Golf Nearby : Vistabella Golf (15 mins), Campoamor (27 mins), La Marquesa Golf (23 mins) , Villamartin Golf (23 mins) , Las Ramblas Golf (27 mins), Roda Golf (39 mins) , Lo Romero Golf (34 mins), Alhama Signature (71 mins), Saurines de la Torre (40 mins), Mar Menor Golf (40 mins) , La Torre Golf (38 mins) , El Valle Golf Club (42 mins) , Hacienda Riquelme Golf (41 mins)
Las Colinas Golf & Country Club Location Map:
Get a price quote for a golf holiday at Las Colinas Golf & Country Club