Melia Palma Marina
Palma de Mallorca, Mallorca, Spain
Official Rating: 4 star
Group: Melia Hotels
Golf Sun Holidays' Melia Palma Marina Golf Package:
7 days accommodation in a double/twin room at the 4-star Melia Palma Marina Hotel, breakfast daily, with 3 rounds of golf on Son Muntaner, Son Quint and Son Vida golf courses:
Please enquire for current prices
Enquiries: Melia Palma Marina Golf Package
The elegant Meliá Palma Marina Hotel enjoys spectacular panoramic views of the Bay of Palma, the Cathedral and the Paseo Marítimo seafront promenade. Its strategic location just 10 minutes from Mallorca airport and the most popular attractions in the city, within 20 km of 8 championship golf courses, as well as its excellent service and extensive facilities make the Meliá Palma Marina Hotel a great choice for your golf holiday to Mallorca.
Facilities include a modern Business Centre, complete wellness and fitness areas, an outdoor pool overlooking the Cathedral, a Spa water circuit, an elegant lobby and public areas, and magnificent terraces providing some of the finest views of the city.The hotel has a spacious à la carte restaurant and its new Blue Lounge Bar, with sports programming on its screens. In addition, there is free WiFi, pillow menu, room service, safety box service in each room. There is also parking for guests with limited availability.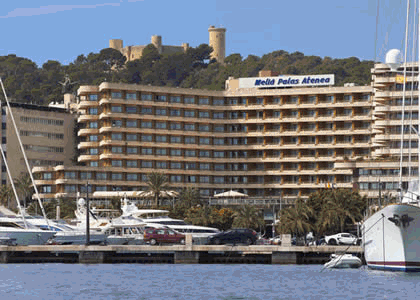 Melia Palma Marina: Accommodation and Amenities
Especially recommended for:
Couples, foursomes, golfing groups, families, conventions
Nearby golf:
Son Muntaner Golf (6 km) , Son Quint Golf (6 km) , Son Vida Golf (7 km), Real Golf de Bendinat (9 km), Poniente Golf (16 km) , Park Puntiro (18 km), Son Termens Golf (18 km), Santa Ponsa Golf (19 km) , Maioris Golf (26 min), Golf Son Gual (22 km), Andratx Golf (25 km)
Golf Offers:
Golf Sun Holidays offers reduced green fees for their clients on Andratx Golf, Alcanada Golf, Canyamel Golf, Capdepera Golf , Maioris Golf, Park Puntiro Golf Club, Pollensa Golf, Poniente Golf Club, Pula Golf, Real Golf de Bendinat, Santa Ponsa Golf Club, Son Gual, Son Muntaner Golf, Son Quint, Son Termens Golf Club, and Son Vida Golf.
Location Map for Melia Palma Marina Hotel:


Get a price quote for a golf holiday including Melia Palma Marina Hotel
Back to Mallorca Accommodation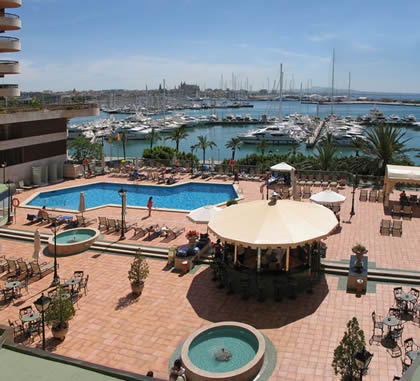 Melia Palma Marina: pool
Melia Palma Marina:
Facts and Figures
Facilities:
• YHI spa with a dynamic pool, sauna, Turkish bath, showers, fitness centre and beauty treatments, massage and physiotherapy
• Gym
• Outdoor swimming pool with sun terrace with panoramic views
• Private parking for the exclusive use of our guests (limited spaces, ask for more information at the hotel) (*)
• Large hall for performances, presentations, screenings and lectures
• Spacious dining areas
• International hotel buffet
(*) extra charge
Services:
• 24-hour reception
• 24-hour room service
• WiFi Internet in hotel public areas and rooms
• Medical services just minutes from the Hotel (on request) (*)
• Ironing and laundry service (*)
• Private covered car park (*)
• Wellness massage and beauty treatments (*)
• Manicure and pedicure (*)
• Sunbed service at the pool (limited sunbeds)
• Secretarial services / international translation (on request) (*)
• Car rental service (*)
• Foreign exchange service (*)
(*) extra charge

Accommodation:
• The Meliá Palma Marina has 8 floors with 353 rooms and 8 junior suites, all outward facing and with a private terrace to enjoy the fantastic Mediterranean climate. Rooms are equipped with a comfortable king size double bed or two single beds made up with superior quality linen.
Room Services:
Free Internet Access (WiFi), pillow menu, national and local press in public areas, 24-hour room service, personalized wake –up calls, "Meliá Connect" customer service, 24-hour concierge service, dry cleaning service and laundry (at extra charges), plasma TV with a wide range of international channels, safety box, minibar, cosmetic mirror, hair dryer and courtesy lamps to illuminate your reading.
Classic Room:
Bright rooms with a furnished terrace (chairs and table) and with views of the city. Ideal for one or two people, the rooms provide a full bathroom and a choice of a king size double bed or two single beds (on arrival at the hotel). The rooms have space for up to 3 people.
Facilities:
• Private terrace overlooking the city
• Functional and practical furniture
• Large desk with chair
• Twin beds or king size bed
• Extra bed or sofa bed on request (*)
• Free baby cot on request
• 37 inch LCD TV with international channels (Canal + / Canal Digital, among others)
• Courtesy night light next to the headboard for reading
• Air conditioning and heating with individual control
• Large double wardrobe
• Full set of Meliá bathroom amenities
• Hairdryer, make-up mirror and full length mirror
• Electronic safe with personalized code
• Magnetic key card
• International direct dial telephone (*)
• Iron and ironing board on request
• Minibar. (*)
(*) with extra charge
Melia Room with Views:
These bright rooms are located on the side of the building. They measure 25 m2 and enjoy views of the seafront promenade. Ideal for one or two people, the rooms provide a full bathroom, a fully furnished terrace (table and chairs) and a choice of a king size double bed or two single beds (on arrival at the hotel). The rooms have space for up to 3 people.
Facilities:
• Private terrace overlooking the city
• Functional and practical furniture
• Large desk with chair
• Twin beds or king size bed
• Extra bed or sofa bed on request (*)
• Free baby cot on request
• 37 inch LCD TV with international channels (Canal + / Canal Digital, among others)
• Courtesy night light next to the headboard for reading
• Air conditioning and heating with individual control
• Large double wardrobe
• Full set of Meliá bathroom amenities
• Hairdryer, make-up mirror and full length mirror
• Electronic safe with personalized code
• Magnetic key card
• International direct dial telephone (*)
• Iron and ironing board on request
• Minibar. (*)
(*) with extra charge
Premium Room:
Located on the side of the hotel and overlooking the Paseo Maritimo seafront promenade in Palma, our bright Premium rooms were renovated in January 2013 and measure 25 m2.
Decorated with elegant contemporary design with a striking modern flair, these rooms are perfect for both work and play. Equipped with a private terrace to enjoy the Mediterranean climate and with a choice between two single beds or a king size double bed. In addition, you can also request a baby cot to accommodate up to three people.
Facilities:
• Private terrace with lateral views of the Mediterranean Sea
• Modern stylish furniture
• Comfortable sofa
• Twin beds or king size bed
• Extra bed or sofa bed on request (*)
• Free baby cot on request
• 37 inch LCD TV with international channels (Canal + / Canal Digital, among others)
• Courtesy night light next to the headboard for reading
• Air conditioning and heating with individual control
• Large double wardrobe
• Full set of Meliá bathroom amenities
• Hairdryer, make-up mirror and full length mirror
• Electronic safe with personalized code
• Magnetic key card
• International direct dial telephone (*)
• Iron and ironing board on request
• Minibar. (*)
(*) with extra charge
Grand Premium Room with Sea View:
Enjoy endless views of the Mediterranean Sea, the Cathedral and the Bay of Palma from your private terrace. Located on the main facade, the bright Grand Premium rooms were renovated in January 2013 and have a sleek and contemporary design. Equipped with a private terrace to enjoy the Mediterranean climate and views, and with a choice between two single beds or a king size double bed.
Facilities:
• Private terrace with uninterrupted views of the Mediterranean Sea, the Cathedral and the Bay of Palma.
• Modern stylish furniture
• Comfortable sofa
• Twin beds or king size bed
• Extra bed or sofa bed on request (*)
• Free baby cot on request
• 37 inch LCD TV with international channels (Canal + / Canal Digital, among others)
• Courtesy night light next to the headboard for reading
• Air conditioning and heating with individual control
• Large double wardrobe
• Full set of Meliá bathroom amenities
• Hairdryer, make-up mirror and full length mirror
• Electronic safe with personalized code
• Magnetic key card
• International direct dial telephone (*)
• Iron and ironing board on request
• Minibar. (*)
(*) with extra charge
Junior Suite:
With the best location in the hotel with uninterrupted views of the Mediterranean Sea, the Cathedral and the Bay of Palma. Renovated in January 2013. The bright and spacious Junior Suites provide 34 m2 in which to rest. They have two terraces, one in the bedroom and another in the adjoining room so you can enjoy the sunset. They are two different environments: one for sleeping and one for work. The room can accommodate up to three people.
Added values:
• Special welcome gift.
• Kettle in your room.
• Individual bathrobe and slippers.
• Exclusive Tous brand amenities
• 50% discount at the Spa thermal circuit.
Facilities:
• 2 private terraces with panoramic views of the Mediterranean Sea and the Bay of Palma.
• Two different areas
• Modern stylish furniture
• Comfortable sofa
• Twin beds or king size bed
• Extra bed or sofa bed on request (*)
• Free baby cot on request
• 37 inch LCD TV with international channels (Canal + / Canal Digital, among others)
• Courtesy night light next to the headboard for reading
• Air conditioning and heating with individual control
• Large double wardrobe
• Full set of Meliá bathroom amenities
• Hairdryer, make-up mirror and full length mirror
• Electronic safe with personalized code
• Magnetic key card
• International direct dial telephone (*)
• Iron and ironing board on request
• Minibar. (*)
(*) with extra charge
Family Room:
Bright, spacious and fully equipped to be enjoyed by families with children. The Family Room has a lounge with beds for children (2 to 12 years), a separate bathroom in the master bedroom and two fully furnished terraces (table and chairs), one with partial views of the Marina and the Bay of Palma. The bedroom has comfortable Dreamax beds designed exclusively for Meliá.
Facilities:
• Private terrace overlooking the city
• Functional and practical furniture
• Large desk with chair
• Twin beds or king size bed
• Extra bed or sofa bed on request (*)
• Free baby cot on request
• 37 inch LCD TV with international channels (Canal + / Canal Digital, among others)
• Courtesy night light next to the headboard for reading
• Air conditioning and heating with individual control
• Large double wardrobe
• Full set of Meliá bathroom amenities
• Hairdryer, make-up mirror and full length mirror
• Electronic safe with personalized code
• Magnetic key card
• International direct dial telephone (*)
• Iron and ironing board on request
• Minibar. (*)
(*) with extra charge

Kids & Co Family Room:
Ideal for families looking for bright and spacious rooms. They have a lounge with the beds for the children (2 to 12 years of age), a bathroom off the main bedroom, plus two terraces, one with partial views of the Marina and the Bay of Palma. The bedroom has a comfortable Dreamax bed designed exclusively for Meliá. The Kids & Co programme includes: mini check-in, Kids & Co passport, and glass of chocolate milk and cookies on arrival day.
Facilities:
• Private terrace overlooking the city
• Functional and practical furniture
• Large desk with chair
• Twin beds or king size bed
• Extra bed or sofa bed on request (*)
• Free baby cot on request
• 37 inch LCD TV with international channels (Canal + / Canal Digital, among others)
• Courtesy night light next to the headboard for reading
• Air conditioning and heating with individual control
• Large double wardrobe
• Full set of Meliá bathroom amenities
• Hairdryer, make-up mirror and full length mirror
• Electronic safe with personalized code
• Magnetic key card
• International direct dial telephone (*)
• Iron and ironing board on request
• Minibar. (*)
(*) with extra charge
Basic Individual Room:
Single room measuring 15 m2 and fully equipped. Ideal for relaxing or working. Equipped with everything you need to make your stay in Mallorca truly unique and make you feel perfectly at home.
Facilities:
• Functional and practical furniture
• Baby crib (on request)
• Large desk with chair
• Spacious double wardrobe
• Two reading lamps in the bed headboard
• WiFi Internet access (*)
• Individually controlled air conditioning and heating
• 37 inch LCD TV with more than 30 Spanish and international channels
• Digital Plus channel
• Telephone with two lines for fax or modem connection
• Full bathroom
• Meliá bathroom amenities
• Hairdryer
• Iron and ironing board (on request)
• Make-up mirror and full length mirror
• Safe
• Mini bar (*)
(*) with extra charge
YHI Spa:
• The Hotel provides a 1,000 m2 YHI Spa with a hydrothermal circuit, whirlpool, Finnish sauna, Turkish bath and much more.
• Relax in the treatment area with 7 treatment cabins, 6 massage rooms and a hydrotherapy area
Opening hours for thermal circuit:
• Monday to Saturday: 10 am to 9 pm
• Sundays: 10 am to 6 pm
• Opening times may vary depending on the season

Fitness Area :
Opening times for the Fitness area, free of charge for hotel guests:
• Monday to Sunday: 7 am to 11 pm
Restaurants at the Meliá Palma Marina Hotel:
Diana Restaurant: Enjoy regional and international dishes for breakfast in the Diana Restaurant, with is lavish international breakfast buffet: bread and pastries, juice , fruit, cheese, sausages, Healthy diet corner (tea, soy milk, dietary jams, German bread, crackers, cereals with fibre), show cooking stations (eggs, bacon, churros, sauces, grilled vegetables, Spanish omelettes to taste ...) Breakfast available in the elegant interior or on the terrace with spectacular views of the Paseo Marítimo seafront promenade, the Bay of Palma, the Marina, and the Cathedral.
• Open: 7:30 am to 10:30 am
Lobby Bar: Sweet and savoury snack service, great choice of premium brand drinks, cocktail and gin and tonic menus. Relax to the soothing tones of the piano or watch your favourite sport in an elegant, fresh and sophisticated setting.
Pool Bar: Choose from burgers, salads, salmon, sandwiches, a variety of juices, beverages, cocktails, ...
• Open: 10:30 am to 8 pm.
July and August 09:30 am to 8 pm. Lunch: 12:30 pm to 4:30 pm.
Tapa Negra: Enjoy haute cuisine in a smaller format and with a fun way to present food which makes it even more delicious to eat. Customised menus available. Spectacular views of the seafront promenade and marina. VIP area. Breakfast served until 12:00 am. Special combinations of fresh fruit, cheese and cold cut selection accompanied by fine pastries, etc.
• Open: Daily from 8:30 am to 12:00 pm
Menu:
Buffet breakfast included. Half board available.

Meetings & Conventions:
• The hotel conference centre has 17 meeting and banquet rooms, 12 of them with natural light and capacity for up to 300 people
• The facilities are equipped with the latest technologies and the most modern audiovisual equipment.
• There is an expert team for technical assistance to help ensure your meeting and event is a success
Nearby:
Near the Meliá Palma Marina Hotel you can visit Palma de Mallorca Cathedral, the Baluard Museum of Contemporary Art, the historic Bellver castle, and the main leisure and entertainment options in the city. Thanks to its location, the Meliá Palma Marina Hotel allows you to discover daily life and nightlife in the city, and all only a few minutes walk from the sailing areas, the fashion stores and the major shopping streets.
• Bellver Castle, one of only very few European circular castles.
• SEU, the Gothic Cathedral of Palma de Mallorca and the Cathedral Museum
• Pueblo Español Centre: The Palma convention centre is a unique example of traditional Spanish architecture
• The Club de Mar is one of the most important yacht clubs in the city, home to regattas and Bridge tournaments, and offering swimming and sailing lessons and sailing equipment and accessories.
• Real Club Nautico de Palma: Founded in 1948, the RCNP Sailing Club is the oldest in the Balearic Islands and is famous in the global yachting industry thanks to the involvement in regattas of the Spanish royal family
• Pilar and Joan Miró Foundation: Designed by Rafael Moneo, the museum was the place where the painter Joan Miró lived and worked for over three decades until his death in 1983. It shows some of his best known works
• Palma Auditorium: Enjoy a symphony performance at one of the best concert halls in Europe
• Baluard Museum of Modern and Contemporary Art: Located 10 minutes from the hotel
• Gran Casino Mallorca, just 5 minutes for fun and games
Location:
The hotel is located on the beautiful bay of Palma, 8 minutes walk from the old city where you can find several shops, bars and restaurants, nightclubs and public transport stops.
• 5 minutes from Cala Major and 10 minutes from Playa de Palma
• 0.9 Km from the Baluard Museum of Contemporary Art
• 1.1 km from Bellver Castle
• 1. 4 km from Mallorca Cathedral
• 1.5 km from the historic and commercial heart of the city
• 1.6 km from the Plaza del Mercat
• 1.8 km from the Plaza Mayor
• 1. 8 km from the Juan March Foundation
• 6 km from the Pueblo Español - Congress Centre
• 8 km from Palma de Mallorca airport
Latitude: 39.551655
Longitude: 2.614655
Get a price quote for a golf holiday including Melia Palma Marina Hotel
Back to Mallorca Accommodation