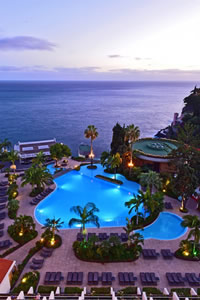 Aerial view of the Pestana Carlton Hotel
Pestana Carlton Madeira Hotel:
Facts & Figures
Facilities & Services:
Services are free except where identified.
• Free Wifi
• Swimming Pool
• Spa
• Fitness Centre
• Room Service
• Restaurant
• Non-smoking rooms
• Parking (payable)
• Coffee & Tea Machine in rooms
• 1 complimentary bottle of water
• Outdoor Swimming Pool (salt water)
• Outdoor Pool for Children
• Indoor Swimming pool
• Pool bar
• Free sunbeds and parasols at the pool area
• Bar
• Sauna
• Wellness Center, Massages and beauty treatments (payable)
• Jacuzzi
• Turkish Bath
• Direct access to the Sea
• Shuttle in Funchal from the Airport to Praia Formosa (payable)
• Meeting and Conference Rooms
• Room Service Available 24 hours
• 24h Reception
• Check in: 3:00 PM | Check-out: 12:00 PM
Accommodation:
All rooms have tea and coffee facilities just upon arrival, as well as beach towels, slippers and a bathrobe. The amenities are Pestana and the mini bar offers local "atlântida" water and the unmissable passion fruit drink. The taste of Madeira with 5-star comfort.
• Balcony
• Free Wi-Fi
• Mini Bar
• Bath
• Shower
• Air conditioning
• Safe
• Radio
• TV
• Cable TV
• Satellite TV
• Telephone
• Room service
• Facilities for Coffee & Tea - Free service on arrival
• Laundry service (for a fee)
• Amenities
Mountain View Double Classic
Cosier and overlooking the mountains that rise behind the city, these rooms do not accommodate extra beds, so they are ideal for single visits on business or for couples who want to spend little time in the hotel.
Max Capacity: 2
View: Mountain
• Air conditioning
• Safe
• Minibar
• Radio
• Writing table
• Phone
• Cable TV
• Private bathroom with bathtub and/or shower
• Bed opening service
• Voice Mail
• 220V voltage
• Mountain View
• Balcony
Mountain View Double Family
Room with hall, living room with sofa bed and without separation between the living room and the bedroom. There is a bathroom with integrated shower in the bathtub, hairdryer. Balcony with table and chairs with mountain view. Double or twin beds.
Area: 64m2
Max Capacity: 4
View: Mountain
• Air conditioning
• Safe
• Minibar
• Radio
• Phone
• Cable TV
• Internet Access
• Private bathroom with bathtub and/or shower
• Bed opening service
• Voice Mail
• 220V voltage
• Balcony
Bay View Double Classic
Room with view over the bay of Funchal, a double bed or twin beds. Balcony with table and chairs.
Area: 31m2
Max Capacity: 2 adults + 1 cot baby.
View: Funchal bay
• Air conditioning
• Safe
• Minibar
• Radio
• Writing table
• Phone
• Cable TV
• Private bathroom with bathtub and/or shower
• Bed opening service
• Voice Mail
• 220V voltage
• Bay View
• Balcony
Pool View Double Classic
Room overlooking the pool, a double bed or twin beds. Balcony with table and chairs. Maximum occupancy
Area: 31m2
Max Capacity: 2 adults+1 cot baby.
View: Pool
• Air conditioning
• Safe
• Minibar
• Radio
• Writing table
• Phone
• Cable TV
• Private bathroom with bathtub and/or shower
• Bed opening service
• Voice Mail
• 220V voltage
• Pool View
• Balcony
Garden View Junior Suite
With a more modest area to enjoy the service room, ample room with sofa and armchair and a huge bed, aside from the bath and the walk-in shower, these rooms feature a phenomenal view. Romantic and with enough space for a stay of multiple nights. The balcony with sun loungers is the perfect place to enjoy long nights of talking.
Max Capacity: 3
View: Garden
• Air conditioning
• Safe
• Minibar
• Radio
• Lounge
• Writing table
• Sofa
• Phone
• Cable TV
• Private bathroom with bathtub and/or shower
• Room Service
• Bed opening service
• Voice Mail
• 220V voltage
• Garden View
• Balcony
• Hair dryer
Sea View Suite
Suite covering 77.55 m2 and an entrance hall with wooden floors. It has a sofa bed and a separate bedroom with carpeted floors and a king-size bed. It features two bathrooms and two verandas.
Area: 70m2
Max Capacity: 4 (3 adults and 1 child or 2 adults, 1 child and 1 baby.)
View: Sea
• Air Conditioning
• Balcony
• Bath
• Free Wi-Fi
• Mini Bar
• Safe
• TV
Mountain View Suite
Suite covering 77.55 m2 and an entrance hall with wooden floors. It has a sofa bed and a separate bedroom with carpeted floors and a king-size bed. It features two bathrooms and two verandas.
Area: 70m2
Max Capacity: 4 (3 adults and 1 child or 2 adults, 1 child and 1 baby.)
View: Mountain
• Air Conditioning
• Balcony
• Bath
• Free Wi-Fi
• Mini Bar
• Safe
• TV
Sea View Double Penthouse
With a huge room and a connection to the smaller suite, for those who come as a family or simply prefer to enjoy the view to the fullest, in total privacy, the presidential suite has amazing views. Perfect for unique and memorable moments.
Max Capacity: 3
View: Sea
• Amenities
• Air conditioning
• Safe
• Cable TV
• Internet Access
• Bathroom
• Mini Bar
ª Sea View
• Balcony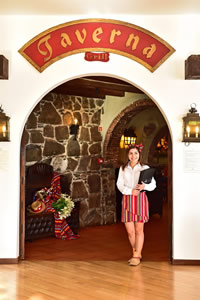 Taverna Grill Restaurant at Pestana Carlton Madeira
Restaurants & Bars:
You can enjoy Madeira cuisine at the buffet restaurant "Os Arcos", located in the select Taverna Grill or at the terrace of the pool bar, with its snacks and seasonal salad buffet.
For drinks, choose from the British "The Pub" to relax and watch a game, or you can pass long hours talking at the pool bar with an amazing and dizzying view of the Atlantic, or drink tea and listen to music in the foyer of the 5th floor.

Pestana Tip: Clients with half board have a credit to try the restaurant à la carte instead of the buffet. There is also a card that allows dinner three times in three restaurants in three different hotels.
Garden Pool Restaurant & Bar: This poolside restaurant - 1st floor - serves a variety of light meals, juices, fresh fruit shakes and ice cream.It is open for dinner during the Summer and serves Mediterranean cuisine à la carte.
Activities at the Pestana Carlton Madeira Hotel:
On the 1st floor, all the basic needs are met: hair, nails and reading - in addition to swimming suits for the often forgotten sunscreen for those who want to sunbathe. One of the most popular hairdressers of Madeira stays here and helps you to always be looking great.
Next to the swimming pool's bar you can find a game room with ping-pong table, table football and snooker as well as the access to the huge indoor 25-meter swimming pool, with its dozens of sun-beds and front sea view. The relaxation areas call for you, such as the gym and the Magic SPA with a indoor pool, jacuzzi and Turkish bath. Children up to 14 years old can access the SPA everyday between 11.30 am to 4.00 pm, but they can freely enjoy the indoor swimming pool located on the 0 floor.

The rooms in lilac tones induce greater relaxation; and the sound of water lullabies you in this wellness oasis. Here, the most popular massages are the Rebalance and the Relaxation as well as the Without Stress packages, but if you need some special care or a more vigorous sports massage, you can request the assistance of a physical therapist or the treatment best suited to your condition.
Nearby:
If you come to Madeira in search of adventure and contact with the unspoiled nature and the lush green of the laurisilva forest, unique in the world, make Carlton your base and the waterfalls your way.
Meetings & Events:
At Pestana Carlton you find an excellent balance between adaptable areas to your event and breathtaking sceneries. If you want to thrill even the most phlegmatic of your employees or partners, book the giant Ballroom, flooded with natural light and which can be divided into two smaller rooms, with access to the terrace with the best view for a truly inspiring coffee break.
Location:
• Prime location with direct access to the sea
• 10 minutes away from the center of Funchal
• 20 minutes away from the airport
Golf Offers:
Golf Sun Holidays offers reduced green fees on the following golf courses for clients staying at the Pestana Carlton Maderia Hotel: Palheiro (17 mins) and Santo da Serra (30 mins) golf courses
Pestana Carlton Madeira Premium Ocean Resort
Largo Antonio Nobre, Funchal, Madeira, Portugal
Official Rating: 5 star
Pestana Group, RNET 3978

Golf Sun Holidays' Pestana Carlton Madeira Golf Package:
7 nights accommodation in a double/twin room with garden view at the 5-star Pestana Carlton Madeira, Funchal, breakfast daily, with 6 rounds of golf on your choice of Palheiro and Santo da Serra golf courses, transfers to/from golf:
Please enquire for current rates
Enquiries: Pestana Carlton Madeira Golf Package

The Pestana Carlton Madeira is a luxurious and charming 5-star hotel in the city of Funchal, on the island Madeira with views of the sea, garden, swimming pool or Funchal bay. It's only 10 minutes on foot from the city centre, with a private car park available for a fee.

It features two enormous outdoor saltwater swimming pools, direct access to the Atlantic ocean, and a dive centre where you can experience your first underwater adventure and take boat excursions.

For deeper relaxation, you can take advantage of all of the services available at the Spa, including the 25-foot indoor swimming pool, Jacuzzi, Turkish bath and relaxation rooms where you can enjoy a Magic Spa treatment. The hotel features Wi-Fi, four restaurants and two bars.

Pestana Carlton Madeira: Accommodation & Amenities
Especially recommended for: couples, families, foursomes, golfing groups and societies.

Recommended nearby golf: Palheiro (17 mins) and Santo da Serra (30 mins) golf courses

Pestana Carlton Madeira Location Map:


Get a price quote for a golf holiday at Pestana Carlton Madeira

Back to Madeira Accommodation

Back to Home Page