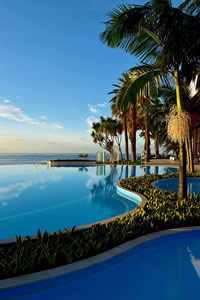 Infinity pool at Pestana Casino Park
Pestana Casino Park Ocean & Spa Resort:
Facts & Figures
Facilities & Services:
Services are free except where identified.
• Free Wifi
• Swimming Pool
• Spa
• Parking (payable)
• Fitness Centre
• Room Service Available 24 hours
• Restaurant
• Non-smoking rooms
• Casino
• Accessibility
• Outdoor Swimming Pool
• Indoor Heated Pool
• Pool bar
• Bar
• Wellness Center, Massages and beauty treatments (payable)
• Jacuzzi
• Turkish Bath
• Transfer Airport/Hotel/Airport (payable)
• Meeting and Conference Rooms
• 24h Reception
• Check in: 3:00 PM | Check-out: 12:00 PM
• Tennis Court (payable)
• Multifunction field (tennis, basket, five-a-side football)
• Football field
• Business Center
• Fax and copy machine
• Laundry (payable)
• Stores
• Medical Service (payable)
• Library and Reading Room
• Games room
• Disco
• Gardens
• Live Music
• Hairdresser (payable)
• Rent-a-car
• Audiovisual equipment
• Facilities adapted for people with reduced mobility
Accommodation:
The rooms are fantastic, spacious and very discrete. The black and beige decor, make the perfect contrast to the always curvy lines of the Hotel and its pools. Your bags are delivered to you in the room and the welcome cocktail is very friendly. The Architect Oscar Niemeyer created the hotel in a style so that the rooms were functional and impressive public areas.
• Balcony
• Free Wi-Fi
• Hair dryer
• Bath
• Shower
• Air conditioning
• Digital safe
• Mini Bar
• Radio
• LCD TV
• Satellite TV
• Telephone
• Room service
• Laundry service (for a fee)
• Amenities

Classic Inland View
Room with a double bed or 2 single beds and a balcony with inland views. It has a bathroom with a shower and a hair dryer. It offers free Wi-Fi, air conditioning and a safe. There is a maximum capacity of 3 adults (3rd person accommodated in extra bed).
Area: 25m2
Max Capacity: 3
View: inland
• Free Wi-Fi
• Double Bed
• Twin Beds
• Shower
• Hair dryer
• Air conditioning
• Electric Tea Kettle (on request)
• Safe
• Mini Bar
• Radio
• Cable TV
• LCD TV
• 220 Volts
• Telephone
• Non-smoking room(s)
• Connecting room(s)
• Room(s) equipped for people with reduced mobility
• Ironing Board and Iron (upon request)
• Balcony
• Desk
Classic Garden View
Room with a balcony with garden views and 2 single beds or a double bed. It has a bathroom with a shower and a hair dryer. It offers free Wi-Fi, air conditioning and a safe. There is a maximum capacity of 3 adults (3rd person accommodated in extra bed).
Area: 25m2
Max Capacity: 3
View: Garden
• Free Wi-Fi
• Double Bed
• Twin Beds
• Shower
• Hair dryer
• Air conditioning
• Electric Tea Kettle (on request)
• Safe
• Mini Bar
• Radio
• Cable TV
• LCD TV
• 220 Volts
• Telephone
• Non-smoking room(s)
• Connecting room(s)
• Room(s) equipped for people with reduced mobility
• Ironing Board and Iron (upon request)
• Balcony
• Desk
Classic Lateral Sea View
With a balcony with a lateral sea view to make the most of your free time. This room has 2 single beds or one double bed and a bathroom with a shower and a hair dryer. It offers free Wi-Fi, air conditioning and a safe. There is a maximum capacity of 3 adults (3rd person accommodated in extra bed).
Area: 25m2
Max Capacity: 3
View: lateral sea
• Free Wi-Fi
• Double Bed
• Twin Beds
• Shower
• Hair dryer
• Air conditioning
• Electric Tea Kettle (on request)
• Safe
• Mini Bar
• Radio
• Cable TV
• LCD TV
• 220 Volts
• Telephone
• Non-smoking room(s)
• Connecting room(s)
• Room(s) equipped for people with reduced mobility
• Ironing Board and Iron (upon request)
• Balcony
• Desk
Junior Suite with Lateral Sea View
Suite with one room with a double bed or 2 single beds, a living room with a chaise longue and a balcony with a lateral sea view. It offers free Wi-Fi, air conditioning and a safe. There is a large bathroom with a shower and hair dryer. There is a maximum capacity of 4 adults (3rd and 4th person accommodated in extra bed).
Area: 50m2
Max Capacity: 4
View: Lateral sea
• Double Bed
• Twin Beds
• Shower
• Hair dryer
• Air conditioning
• Chaise Longue
• Electric Tea Kettle (on request)
• Safe
• Mini Bar
• Radio
• Cable TV
• LCD TV
• 220 Volts
• Telephone
• Non-smoking room(s)
• Ironing Board and Iron (on request)
• Balcony
• Desk
Family Room with Garden, Inland or Partial Sea View
This room has 2 connecting rooms with a double bed or 2 single beds, ideal for families. It has 2 bathrooms with shower and hair dryer and a balcony which can have a garden, inland or partial sea view. It offers air conditioning, a safe and free Wi-Fi. There is a maximum capacity of 5 adults (5th person accommodated in extra bed).
Area: 50m2
Max Capacity: 5
View: garden, inland or partial sea
• Free Wi-Fi
• Double Bed
• Twin Beds
• Shower
• Hair dryer
• Air conditioning
• Chaise Longue
• Electric Tea Kettle (on request)
• Safe
• Mini Bar
• Radio
• Cable TV
• LCD TV
• 220 Volts
• Telephone
• Non-smoking room(s)
• Connecting room(s)
I• roning Board and Iron (on request)
• Balcony
• Desk
Presidential Suite with View of Funchal, the Bay, the Harbour, and the Gardens, Sea and Mountains
Located on the top of the building, it has a large living room with dining area, a bathroom and a spacious closet. The room has a double bed and a private bathroom with a magnificent whirlpool bath and hair dryer. It has 3 balconies and a superb view of Funchal, the bay, the harbour, the gardens, the sea and the mountains. It also offers air conditioning, a safe and free Wi-Fi. There is a maximum capacity of 3 adults (3rd person accommodated in extra bed).
Area: 82m2
Max Capacity: 3
View: Funchal, the bay, the harbour and the gardens, sea and mountains
• Free Wi-Fi
• Double Bed
• Bath with hydro massage
• Hair dryer
• Air conditioning
• Electric Tea Kettle
• Safe
• Mini Bar
• Radio
• Cable TV
• LCD TV
• 220 Volts
• Telephone
• Non-smoking room(s)
• Ironing Board and Iron (on request)
• Balcony
• Closet
• Dining table and chairs
• Separate living area
• Desk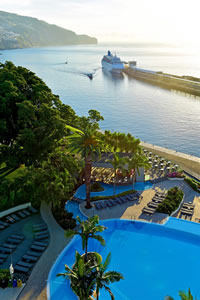 View to the cruise ship dock from Pestana Casino Park
Restaurants & Bars:
Located in the Pestana Casino Park are the glamorous Panorâmico, and the private Sunset. The modern Dockside and the spectacular Bahia located in the Casino da Madeira and the Aqua-Café are options that will set the tone of your holiday and the flavour of your stay.
With daily themed buffets, the Panorâmico, located on the garden floor, has a glass and iron structure, where light reigns supreme. Here there is no room for monotony: while listening to live music from the bar or the piano, you can try dishes as diverse as chicken curry or Madeira sausage. The gala dinners are held here on special dates, and even though it is just a normal night, the dress code asks requires some special attention, lending a more sophisticated ambiance to your meal.
The Sunset is ideal for business lunches and more intimate dinners on the weekends, with a menu that balances Madeira's options in a warm, elegant, intimate yet spacious setting.
The fantastic Dockside is completely dedicated to leisure, thanks to its incredible esplanade over the sea. Breakfast is served here with the best views of the bay during the summer and dinners dedicated to certain cuisines such as Italian, Japanese or others that are equally informal and attractive.
If you want to see a cabaret or variety show, the Bahia is the best place to have dinner on Thursdays. With musicians of excellent quality, incredible singers and magnificent dancers, the magic of the arts and the stage will add a special touch to your stay.
You can choose the Aqua-Café Bar where breakfast on the go is served to customers who choose to have their breakfast between 1:00 a.m. and 7:00 a.m.
Meetings & Events:
The Pestana Casino Park has excellent conditions for large groups, conventions, congresses, seminars, meetings and social and gala events, with 14 meeting rooms within the building, and different areas for coffee breaks, break out rooms and use of public space. In addition, you will find a floor completely dedicated to meetings. The conference floor has 2 large multi-purpose rooms that allow you a more private access and use of the spaces, as well as a terrace, ideal for coffee breaks overlooking the sea and gardens.
Location:
• Prime location with a fantastic view over the sea
• Located 20 minutes away from the airport
Golf Offers:
Golf Sun Holidays offers reduced green fees on the following golf courses for clients staying at the Pestana Casino Park: Palheiro (17 mins) and Santo da Serra (30 mins) golf courses
Pestana Casino Park Ocean & Spa Resort
Rua Imperatriz D. Amélia, Funchal, Madeira, Portugal
Official Rating: 5 star
Pestana Group, RNET 3976

Golf Sun Holidays' Pestana Casino Park Golf Package:
7 nights accommodation in a classic double/twin room with garden view at the 5-star Pestana Casino Park, Funchal, breakfast daily, with 6 rounds of golf on your choice of Palheiro and Santo da Serra golf courses, transfers to/from golf:
Please enquire for current rates
Enquiries: Pestana Casino Park Golf Package

The Pestana Casino Park is a 5-star hotel in Funchal, Madeira, surrounded by 15,000 m² of private gardens. Designed by world-renowned master architect Óscar Niemeyer, this hotel is adjacent to the Funchal bay cruise port. Plus, it is only 5 minutes on foot from the city centre and the epicentre of the city's social and cultural life.

Its privileged location on the shores of the Atlantic Ocean makes it one of the most famous hotels on the island of Madeira. It features an infinity swimming pool, gardens with peaceful alcoves, a private car park available for a fee, a Spa where you can schedule a massage and/or Magic Spa treatment, and an indoor swimming pool with water jets, jacuzzi, Turkish bath, sauna and gym.

You can enjoy four restaurants and bars with views overlooking the tennis court and access to the Casino da Madeira, with games, shows and a nightclub. All rooms have Wi-Fi and a private balcony.

Pestana Casino Park: Accommodation & Amenities


Especially recommended for: couples, families, foursomes, golfing groups and societies, conventions and congresses.

Recommended nearby golf: Palheiro (20 mins) and Santo da Serra (32 mins) golf courses

Pestana Casino Park Location Map:


Get a price quote for a golf holiday at Pestana Casino Park

Back to Madeira Accommodation

Back to Home Page