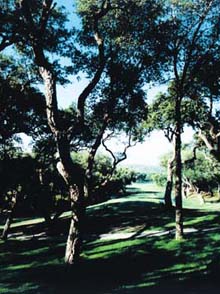 Real Club Valderrama
Real Club Valderrama:
Facts & Figures
18 holes, Par 71/72


Professional 6390 metres,
VC 76.1, Slope 147, Par 71


Club Championship 5911 metres,
VC 73.6, Slope 142, Par 71


Executive 5501 metres,
VC 71.4, Slope 136, Par 72


Seniors 5043 metres
VC 68.3, Slope 128, Par 71


Ladies Professional 5299 metres
VC 76.3, Slope 142


Ladies Club 4861 metres,
VC 73.2, Slope 133, Par 71
Greens: Agrostis Stronolifera G2

Green Collars: Perennial Ryegrass

Fairways: Bermuda Tifway 419

Tees: Bermuda Tifway 419

Rough: Perennial Ryegrass & Bermuda Tifway 419
Inauguration: June 1985

Designer: Mr. Robert Trent Jones Sr.

Course type: Private, with limited tee-times for visitors

Practice areas: Driving Range, chipping area & putting green

Total holes: 18 + 9 (Par 3 course)

Rentals:
Buggies, Caddies, Restaurant, Electric trolleys, Trolleys

Facilities:
Pro-shop, Locker rooms & valet parking
Handicap:
Men 24, Ladies 32
Restrictions:
"Real Club Valderrama is private member's club that welcomes visitors at certain times of the day. The Club has strict etiquette rules and a dress code policy. Visitors must follow these rules at all times"
• The use of mobile telephones and cameras is strictly forbidden in all areas of Real Club Valderrama
• Handicap is limited to 24 for Gentleman and 32 for Ladies. Certificate may be requested
• Visitors may only use the driving range 45 minutes before play
• Visitors are allowed to play Real Club Valderrama golf course between 12:00 and 14:00 hours, throughout the week
• A strict 15 minute interval between groups is applied. Flights must be formed by four players. All threesomes, pairs and individual bookings will be reallocated to complete the foursome
• Operations staff will require all groups to maintain adequate Pace of Play
· Visitors may only play twice in a given month or seven times in any one calendar year
• Golf carts are not allowed near the tees or greens. The use of buggies is always subject to golf course conditions
• The dress attire must be in full harmony with the game of golf. The use of Tshirts, jeans, athletic apparel, bathing suits and shorts above knee length is strictly forbidden. The use of golf shoes with soft spikes is also mandatory
• No outside food or drink allowed
• Domestic animals are strictly forbidden on all Club premises
Restaurant:
Open for members and visitors Thursday and Friday night from 20.00h to 22.00h and on Sunday for buffet 13.00h-15.00h. Dress code: 1 November - 31 May: jacket and tie; 1 June - 31 October: long sleeved shirt as an alternative to jacket and tie. Ladies should be smartly dressed.
Reduced rates:
for Golf Sun Holidays clients
Real Club Valderrama
Sotogrande Alto, Costa de la Luz, Spain
Real Club Valderrama is a 6400 metres (7000 yards) par 72 with no hole of less than championship quality but it can be fully enjoyed by players of all handicaps thanks to Robert Trent Jones Sr, who designed the course in 1974. At Jaime Ortiz-Patiño's urging he came back to redesign it with additional land when the new Club was formed in 1985. Thereafter, it took only a few years to win recognition in the "Golf World' rankings as the number 1 golf course in mainland Europe, a position held since 1989. Real Club Valderrama is now in the Top 50 World Rankings.
Real Club Valderrama hosted the first nine editions of the Volvo Masters (1988-1996.) It hosted the Ryder Cup in 1997 and has hosted the first World Golf Championships - American Express Championship in 1999 and the second in 2000.
The amenability of the golf course to the handicap golfer and its deliberate severity to the championship player owe much to the extensive range of tees. The tees are differentiated not just by distance but by careful siting. The fairways are widely considered the best in Europe, while the greens have been compared by Davis Love III and many others with Augusta.
Real Club Valderrama has 2 prevailing winds: the Poniente from the land, which in summer can be very hot, and the Levante from the Mediterranean, which brings a cooler sea breeze. The changed conditions when one is blowing add variety to a golf course that is already rich in shot values.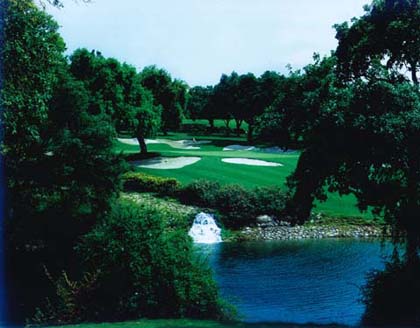 Real Club Valderrama
Discount Green Fees & Book Tee Times
We offer our clients guaranteed tee times with discount green fees on Real Club Valderrama.

Green Fee Rates

Book Tee Times
Real Club Valderrama Location Map:
Get a price quote for a golf holiday including Real Club Valderrama
Back to Accommodation in Costa del Sol