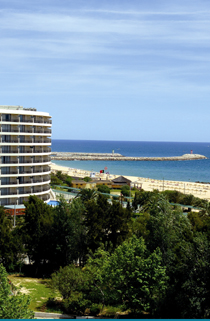 Vila Gale Ampalius Hotel overlooks the beach
Vila Gale Ampalius Hotel:
Facts & Figures
Facilities:
• Outdoor pool for adults and children
• Games room
• Nep Kids Club
• Garden
• Secretariat for Mini Golf / transport to the courses
• Tennis professional
• Hairdresser's
• Tobacconist's
• Shops
• Laundry service
• Garage
• Parking Lot
• Wheelchair access
• Children's Playground
• Health Club (includes: dynamic swimming pool, Jacuzzi, sauna, Turkish bath, Vichy shower, Contrast shower, treatments AND massages, gymnasium)
Accommodation:
• Total number of rooms - 357
• 54 junior suites
• 30 senior suites
• Air-conditioning
• Direct telephone
• Telephone in W.C.
• Satellite TV/ Radio
• Radio channels on the TV set
• Refrigerator or mini bar in the rooms
• Safe
• Hair dryer
• Electronic safety lock
• 24hr Room Service
• Free Wi-Fi

Restaurants & Bars:
• 'Versátil' Restaurant
• 'Euforia' Lobby bar
• Pool Bar (between April and September)
Meetings and Events:
• Meeting rooms
• Wireless Internet Zone
• Internet Terminal
Nearby:
• Beach
• Marina
• Casino
• Golf
• Shops
• Water sports
• Disco
• Horseback Riding
• Shooting range
• Cinema
• Roman Ruins
• Tennis Club
• Golf Academy
• Shuttle Bus
• Live music
• Animation
Menu:
Buffet Breakfast
Note:
This is a non-smoking hotel.
Distance:
from Faro Airport: 22 km
Golf Offers:
Golf Sun Holidays offers reduced green fees on the following golf courses for clients staying at the Vila Gale Ampalius Hotel: Alto Golf, Boavista, Espiche Golf, Gramacho, Morgado (Morgado - Alamos), Dom Pedro Gofl (Old, Millennium, Laguna, Pinhal, Victoria), Palmares, Penina Golf, Pinheiros Altos, Quinta do Lago (North, South, Laranjal) Golf, Salgados, San Lorenzo Golf Club, Silves Golf, Vale do Lobo (Royal, Ocean), Vilasol Golf
Vila Gale Ampalius Hotel
Vilamoura (Algarve) Portugal
Official Rating: 4 star
Vila Gale Hoteis
Golf Sun Holidays' Vila Gale Ampalius Hotel Golf Packages:
7 nights accommodation in a double/twin room at the 4-star Vila Gale Ampalius Hotel in Vilamoura, buffet breakfast daily, 5 rounds of golf on Pinhal x2, Laguna x2 and Millennium x1 golf courses, transfers included to/from golf by hotel shuttle:
Please enquire for current prices
Enquiries: Vila Gale Ampalius Golf Package
Located between the casino and the marina and situated along the seafront, Vila Gale Ampalius is ideally located in Vilamoura. As well, it is within 5 km of six excellent golf courses and it is under 15 km to 7 more. There are lots of restaurants and bars within walking distance of this hotel. With 357 rooms (84 suites) and two outdoor swimming pools (adults only and for children), the Vila Gale Ampalius is a popular choice for golfing groups who always enjoy the breakfast at the hotel, which gets them ready to enjoy a fantastic day of golf.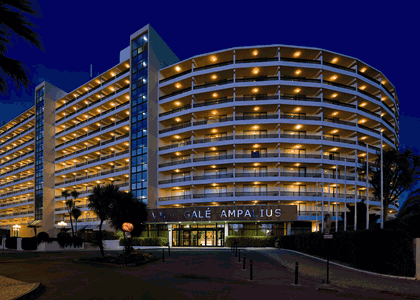 Vila Gale Ampalius Hotel: Accommodation & Amenities
Especially recommended for:
Couples, foursomes, golfing groups, families
Recommended nearby golf:
Dom Pedro Old (5 km), Dom Pedro Millennium (4 km), Dom Pedro Laguna (4 km), Dom Pedro Pinhal (4 km), Dom Pedro Victoria (4 km), Vila Sol (5 km), Vale do Lobo (Royal, Ocean - 8 km), Quinta do Lago (North, South, Laranjal Golf - 14 km), San Lorenzo Golf Club (14 km), Pinheiros Altos (14 km)
Vila Gale Ampalius Location Map:


Get a price quote for a golf holiday at Vila Gale Ampalius Hotel