Belas Clube de Campo
2605-193 Belas, Estoril Coast, Portugal
Designed by American Rocky Roquemore, this course has lovely views of the Sintra mountains. Belas is a Championship Golf Course. The layout is extraordinary, with several fairways and greens set in deep valleys, and it affords unforgettable panoramic scenery to golfers and visitors. With its excellent variety of holes, the course is a pleasure to play, whatever one's handicap level. It demands both skill and tactical play, and is acknowledged both locally and internationally as one of Portugal's best constructed layouts. The layout has several fairways and greens set in deep valleys, affording unforgettable panoramic scenery. Both skill and tactical play is needed on this course, which is acknowledged as one of Portugal's best constructed layouts. Many outstanding holes will easily be remembered even after playing the course once.
Views and Amenities at Belas Golf
Club
Discount Green Fees & Book Tee Times
We offer our clients guaranteed tee times with discount green fees on Belas Golf Club
Belas Golf Club Course Plan: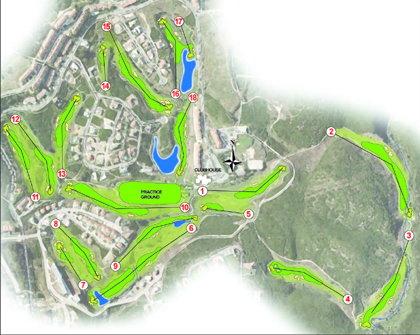 Click to View Larger Course Plan

Belas Golf Club Location Map:



Get a price quote for a golf holiday including Belas Golf Club
Back to Lisbon, Cascais & Silver Coast Accommodation

On the first tee at Belas Golf
Belas Clube de Campo:
Facts & Figures
18 holes, Par 72

White 6109 meters (6680 yards)
Rating 72.5, Slope 129

Yellow 5615 m,
Rating 70.8, Slope 127

Red 4888 m,
Rating 72.1, Slope 124
Architect:
William "Rocky" Roquemore
Grass Types:
Penneagle (tees, fairways) and Penncross (greens)
Facilities:
Clubhouse, locker room, pro-shop, restaurant, bar, school, putting green, driving range with bunker and chipping areas. Fleet of 50 buggies. Golf Academy with 2 practice areas each with 18 stations, short game area and putting green. There are also a further 2 putting greens.

Starting times:
Every 10 minutes

Restrictions:
Handicap Certificate is required (maximum allowed Men – 28 / Ladies – 36)

The use of soft spikes is compulsory

Tournaments:
• Challenge Tour Grand Final – 1998
• Belas Clube de Campo Senior Open de Portugal - 2011

Opening Times:
Timetable: 07h30/18h00 (Winter) – 07h30/20h00 (Summer)

Open all year round, except Christmas Day
Environment:
The company has implemented a Quality and Environmental Management System (QEMS) certified to the international standards for quality EN NP ISO 9001 and environment EN NP ISO 14001 certification, and is also certified to the European "Committed to Green" Programme.
Location:
International Airport: Lisbon, 15 km / (20 minutes)
Coordinates: 38º48'30.00" N / 9º16'26.96" W
Green Fees

Get a price quote for a golf holiday including Belas Golf Club