La Cala Golf Club
La Cala de Mijas, Costa del Sol, Spain (Mijas area)
The three fine 18 hole golf courses located at the La Cala resort, La Cala America (Par 72, formerly North) and La Cala Asia (Par 72, formerly South) and La Cala Europa (par 71, formerly New) , were all designed by the American architect Cabell B. Robinson. The Resort houses the La Cala Golf Academy with adjoining driving range and six hole, par three "Executive" course. La Cala Resort is the only resort on the Costa del Sol with three 18-hole championship courses.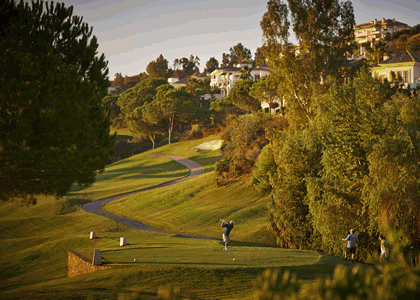 La Cala Golf Club: Views of the Asia, America and Europa courses
The America Course starts with the three flat holes followed by a narrow and interesting Par 3, where it is recommended that you hit the ball onto the green or you will find yourself in the ravine or a bunker. If you have time walk up to the white tee box on the 16th and take in the spectacular views of the entire resort, and you can even see the coast line from this height.
The Asia Course is also an excellent course. There are water hazards on the 5th and 12th. The 11th is a picturesque par 3. The 1st, 9th, 10th, and 18th are all located beside the Clubhouse. Watch where you hit the ball on the 9th or you might end up in trouble.
On the Europa Course, the Ojen river plays a part in eight holes, cutting across three fairways. There is one main bridge that measures 45 metres and four smaller bridges over the river. The design also features four tunnels for golf carts and maintenance machinery. Designer Cabell B Robinson says, "The new course is not only dramatic but will also be easier for the average golfer. The fairways are generous from the tees and the greens are slightly larger than on the existing courses."

Discount Green Fees & Book Tee Times
We offer our clients guaranteed tee times with discount green fees on La Cala Golf Club
La Cala Golf Club Location Map:
Get a price quote for a golf holiday including La Cala Golf or La Cala Golf Academy
Back to Accommodation in Costa del Sol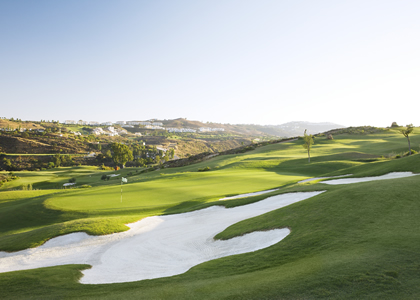 The 6th hole on La Cala Europa
La Cala Golf: Facts & Figures
Asia Course
18 holes, Par 72

White
5925 m, VC 72.1, VS 140

Yellow
5412 m, VC 69.1, VS 139

Blue 4785 m, VC 71.3, VS 130

Red
4467 m, VC 69.7, VS 124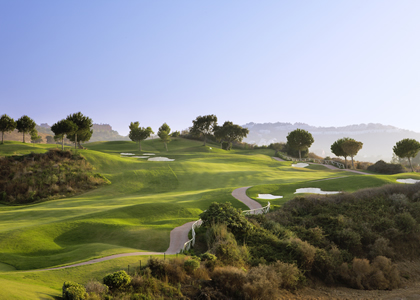 6th hole on La Cala America course
America Course
18 holes, Par 72

White
6009 m, VC 72.7, VS 138

Yellow
5600 m, VC 70.6, VS 133

Blue
4994 m, VC 72.1, VS 127

Red
4619 m, VC 70.3, VS 131
Europa Course
18 holes, par 71

White
6014 m, VC 72.1, VS 138
Yellow 5705 m, VS 70.1, VC 135

Blue
4829 m, VC 70.3, VS 124

Red
4556 m, VC 68.4, VS 123
Handicap Requirements:
Men 28, Ladies 36
Facilities:
Driving range, La Cala Golf Academy, putting and chipping green, golf shop, covered buggy parking area, buggy and club rental, squash, table tennis, fitness club, football pitch.
Note on buggies:
Buggies can be used on Fairways with the 90 degrees rule. The use of the buggy is not obligatory, although there are some courses that are difficult to play walking. Europa course is the hilliest one and Asia the flattest one. America is the wider course, although there are also small hills (not as many as on the Europa course).
La Cala Golf Academy:
Golf Playing Lessons: includes green fee, shared buggy, golf course instruction for 9 or 18 holes
Individual lessons: for Adults and Juniors, 30 or 45 minutes
2 day Beginners lessons (2 hours per day): Basic Fundamentals, Swing/video analysis, short game / putting
3 day Intermediate lessons (2 hours per day): Basic Fundamentals, Swing/video analysis, short game / putting
5 day Advance lessons (2 hours per day): Computer/video analysis, pitching, chipping, putting, bunker; teaching aids, final day - 9 holes on the course, playing analysis and course management, shots from difficult lies, rules and etiquette.
Reduced rates:
for Golf Sun Holidays clients
Get a price quote for a golf holiday including La Cala Golf and/or La Cala Golf Academy