Lo Romero Golf Club
Pilar de la Horadada, Alicante, Spain
Lo Romero Golf is a very special 18-hole course. Its varied and meticulous design along with its gentle relief and Mediterranean vegetation makes it an ideal place to play golf. You will enjoy a good round on this course.
This is an amazing location, by the Mediterranean coast, next to the Mar Menor Sea with a mild climate, beaches, small ports and an easy-going atmosphere.
For those who enjoy overcoming small challenges, hole 18 has been tailor-made: the green is an island in the middle of the lake. It looks like an easy shot: you just have to fly the ball over the lake surrounding the green. But this tee shot can make your hand go unsteady, your heart beat very fast, your adrenaline rise and your senses sharpen.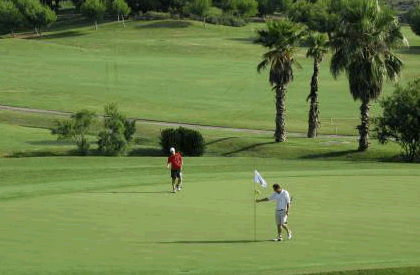 Lo Romero Golf: Views of the Course

Discount Green Fees & Book Tee Times
We offer our clients guaranteed tee times with discount green fees on Lo Romero Golf Club

Green Fees

Book Tee Times
Lo Romero Golf Club Location Map:
Get a price quote for a golf holiday including Lo Romero Golf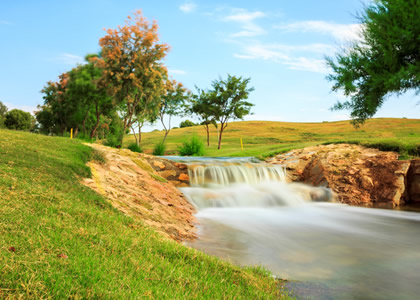 Waterfall on Lo Romero Golf
Lo Romero Golf Club: Facts & Figures
18 holes, par 72


White - 6237 metres, VS 135, VC 72.5


Yellow - 6061 metres, VS 136, VC 71.7


Blue - 5635 metres
Men - VS 127, VC 69.5, Par 71
Women - VS 117, VC 76, Par 72


Red - 5260 metres, VS 123, VC 73.5
Lo Romero course plan and course review (hole by hole)
Facilities:
Bar/restaurant, buggy bar, golf academy
Lo Romero Golf Academy :
Golf Lessons: Individual, 2 players, children
Package Lessons: 5 hours (1-5 persons), 10 hours(1-5 persons), adult clinics every Friday afternoon
Beginners Lessons: Adults (2 hours), Children (2 hours),
Course Lessons: 1 hour (1-4 persons), 2 hours (1-4 persons)
For prices, please enquire
Get a price quote for a golf holiday including Lo Romero Golf