CampoReal Golfe & Natureza
Turcifal, Silver Coast, Portugal
CampoReal (Royal Meadows) Golfe & Natureza is a challenging course designed by Donald Steel which opened 28 May 2005. The course at Campo Real has been designed to appear as natural as possible. This was considered to be important to reflect the incredibly beautiful surroundings. The hills all around provide a stunning backdrop to many holes and give the golfer a feeling of escape. The out of bounds parts of the course will be maintained as wild and natural areas and much of the existing vegetation has been retained for this purpose. In this way the flora and fauna of the site will be encouraged and allowed to flourish. As a result of the significant change of level of the site, there are many exciting shots to play at Campo Real. This change of level also results in the course being a difficult, although not impossible, course to walk. However, a full set of cart paths are to be provided so that golfers can enjoy their round using a buggy. The green surfaces also contain a significant amount of undulation. The greens are built to USGA specifiation to provide optimum conditions for growth and quick recovery after rain. Effective drainage and irrigation systems have been installed. There are relatively few bunkers on the course due to the strong natural characteristics of the site.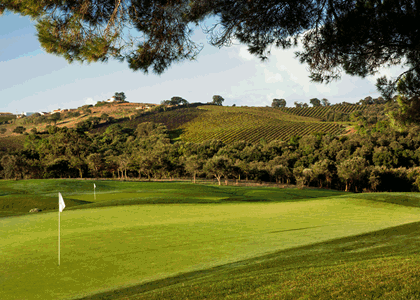 CampoReal Golf Club: Views of the course and clubhouse
Discount Green Fees & Book Tee Times
We offer our clients guaranteed tee times with discount green fees on Camporeal Golf Club
Book Tee Times

CampoReal Golf Club Location Map:



Get a price for a Golf Holiday including CampoReal Golf
Back to Lisbon, Cascais & Silver Coast Accommodation
Back to Home Page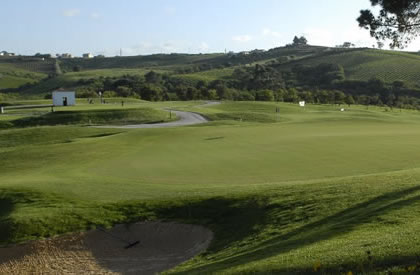 Countryside view at CampoReal Golf Club
CampoReal Golfe & Natureza:
Facts & Figures
18 holes, Par 72
Designer: Donald Steel

White 6011 metres,
Slope 122, Rating 71.1

Yellow 5508 metres,
Slope 117, Rating 68.6

Blue 5180 metres,
Slope 119, Rating 72.5

Red 4746 metres,
Slope 113, Rating 69.9
Practice facilities:
Double-ended 290 metres driving range with warm up and practice areas, 4 target greens with bunkers. Short game practice facilities, putting green practice facilities, academy with several professionals, lockers are available in the changing rooms
PGA qualified resident instructor, pro shop, clubhouse with bar and restaurant facilities (indoor and outdoor seating), Halfway House at the 10th tee, outside covered verandas overlooking 18th green.
First tee time:
07.30h; last tee time 4 hours before sunset.
Restrictions:
Soft spikes required. Jeans, tennis shorts, track suites and t-shirst are not allowed on the course and/or driving range.
Handicaps:
26 for men, 34 for ladies
Location:
30 minutes from the centre of Lisbon.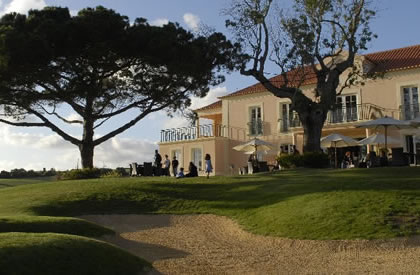 Clubhouse terrace at CampoReal Golf Club

Green Fees

Get a price for a Golf Holiday including CampoReal Golf