El Rompido Golf Club
Cartaya (Huelva) Spain
Located in close proximity to the airports of Seville, Jerez and Faro (Portugal), El Rompido Golf Club is situated near Cartaya (Huelva) and has beautiful views of the Atlantic Ocean from its fairways. It is the only 36 hole course in the region and is surrounded by the natural marsh area of Las Marismas del Rompido. The large greens and the impecable Bermuda 419 fairways, not to mention the scope for playing a wide variety of shots and match situations, make El Rompido Golf Club an unforgettable experience for all golfers.
El Rompido South Course
Opened in 2003, the South Course borders the clubhouse and is divided into two nines of very different characteristics in terms of technique and landscape. The pine forest alternates with olive trees and wetlands, requiring golfers to use strategy and precision in their strokes. The course, which can be easily walked, offers spacious greens known to be among the fastest in Andalusia. Due to the mixture of tropical and winter grass, players find the fairways lend a great sense of comfort to their game.
El Rompido North Course
Inaugurated in spring 2006, the North Course boasts privileged views due to its location on a hill. Intelligently laid out, it is a truly enjoyable course located right in the heart of the wetlands nature reserve and El Rompido beach. This course is generally quite flat and requires both length and accuracy from the golfer. Even though a great amount of forethought is required, the course is not above any player's level. In fact, the medium-sized greens ensure that the most skilled and even the less experienced golfer will fully enjoy their round.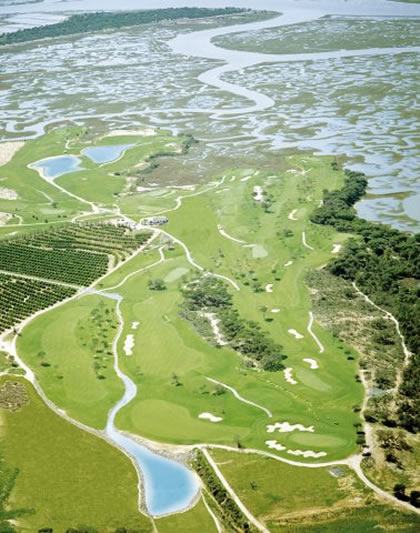 El Rompido Golf Club from the air
Resort Accommodation: Precise El Rompido Golf Hotel

El Rompido Golf Club location map:
Get a price quote for a golf holiday including El Rompido Golf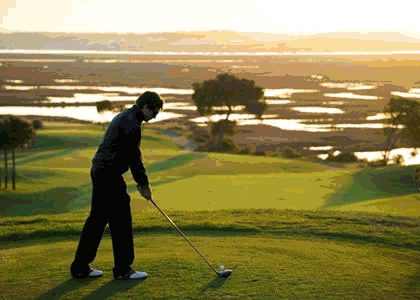 Views of El Rompido Golf Club
El Rompido Golf Club:
Facts and Figures
South Course
18 holes, Par 72


White 6148m, Slope 133, VC 72.5


Yellow 5834m, Slope 130, VC 71.0


Blue 5502m, Slope 130, VC 74.0


Red 5192m, Slope 127, VC 73.0
Course Record: 65 (Final Professional Circuit in Spain)
Download El Rompido South Scorecard
North Course
18 holes, Par 72


White 6095m, VC: 72.5, Slope 133


Yellow 5910m, VC 71.0, VS 130


Blue 5530m, VC 74.9, Slope 130


Red 5127m, VC 73.0, Slope 127
Course Record: 66 (Miguel Angel Jiménez)
Accolades:
Now ranked among Europe's top 1,000 courses, Peugeot Guide to Europe's Top 1000 Golf Courses
Download El Rompido North course guide
Designer:
Alvaro Arana
Facilities:
Clubhouse with pro shop, restaurant with golfer's menu, terrace with golf course views, dressing rooms, showers, lockers, club room, parking, bag drop area by the Clubhouse, bag storage room, shoes and club cleaning area, toilet facilities on the course (2 on each course)
Practice Facilities:
Golf El Rompido has two complete practice areas, one on each course, designed for both group instruction and for personal coaching.
The practice tees are made of natural grass and synthetic mats.

South practice area, covering over 40,000 m2, consists of:
• putting green with 18 flags
• green and two bunkers (2 x 8 people)
• chipping green (8 people)
• driving range (275 metres, 36 people)

North practice area, covering almost 30,000 m2, consists of:
• putting green with 18 flags
• bunker (8 people)
• chipping (8 people)
• wedge range (80 metres, 8 people)
• driving range (200 metres, 23 people)
Rentals:
Club rentals, trolleys, electric trolleys, buggies
Requirements:
Soft spikes only. Handicap requested: 28 Men, 36 Ladies
Map of the course: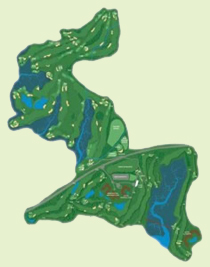 Click for larger image
Get a price quote for a golf holiday including El Rompido Golf