La Manga Club Golf
Los Belones, Cartagena (Murcia) Spain
If there were a sport that distinguishes La Manga Club as one of the best sports resorts in the world, it would be golf. The resort is home to three 18-hole golf courses, each with its own particular style:
• The North Course, designed by world-renowned golf course architect Robert Dean Putman.
• The South Course, also designed by Putman and later remodelled by Arnold Palmer.
• The West Course, designed by Dave Thomas.
Last, but by no means least, the 18-hole pitch & putt course was designed by the legendary five-time major winning golfer, Severiano Ballesteros.

North Course
Palm trees, lakes and natural storm gullies known as 'barrancas' are key features of the North Course, which is slightly shorter than the South, with tighter fairways and larger greens.
The greens have plenty of movement built in. A good example is the par 3 second, which has three distinct plateaux - a great test of putting.
The North Course provides a stern test of shot making from golfers of all standards, with a deft touch required on the greens.
West Course
The West Course, with its frequent changes in elevation, offers a different set of challenges. The front nine demand accurate driving to avoid the 'barrancas' (natural storm gullies), while the back nine, up amongst the hills, are more open but nonetheless challenging.

"The 18th is a great finale on the West Course. The magnificent view from the tee is always something to look forward to and as the tee sits very high above the fairway, the wind is always ready to play its part." — Nigel Mansell, Former Formula 1 World Champion.
South Course
The South Course has been the venue for many major professional tournaments, including various Spanish Opens, PGA Championships and European Tour qualifying schools.

A long course, at almost 6,500 metres from the white tees, it has water hazards on 15 of its 18 holesand few hidden dangers. The front nine are particularly challenging with two par 3s in excess of 200 metres and some daunting par 4s, which call for accurate driving between lakes and bunkers. The back nine, although shorter, has a number of intriguing dog-leg holes.
Pitch & Putt

This par 47 is great for sharpening your short game, with bunkers, water hazards and some subtle right-to-left and left-to-right putts on the greens.
The par 3s are particularly well designed, with excellent greens for putting, real bunkers and light rough around three holes. An enjoyable round in a beautifully landscaped setting.
La Manga Golf: Views of the course
Resort Accommodation: Principe Felipe Hotel 5* and Las Lomas Apartments 4*

Discount Green Fees & Book Tee Times
We offer clients staying at La Manga Club Resort guaranteed tee times with discount green fees on La Manga Club Golf
La Manga Club Golf Location Map:
Get a price quote for a golf holiday including La Manga Club Golf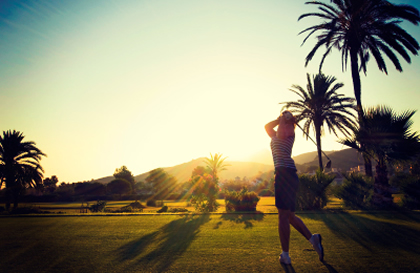 Great fairway shot on La Manga Club Golf
La Manga Club Golf: Facts & Figures
North Course
18 holes, Par 71


White 5753 m, VC 70.6, Slope 129


Yellow 5429 m, VC 68.7, Slope 127


Blue 5183 m, VC 73.0, Slope 135


Red 4964 m, VC 71.6, Slope 132

Download North Course plan
West Course
18 holes, Par 72


White 5770 m, VC 73.5, Slope 140


Yellow 5533 m, VC 72.4, Slope 139


Blue 5130 m, VC 75.2, Slope 141


Red 4724 m, VC 72.7, Slope 135
Download West Course plan

South Course
18 holes, Par 73


White 6499 m, VC 74.5, Slope 138


Yellow 6127 m, VC 72.5, Slope 134


Blue 5739 m, VC 76.7, Slope 141


Red 5139 m, VC 76.7, Slope 129
Download South Course plan

Golf Practice Centre
The driving range and practice facilities have been brought up to the level of the best in Europe.

La Manga Club Golf Training Centre
La Manga Club Golf Training Centre, the new Golf Academy is led by the renowned Swedish instructor, Thomas Johansson and integrates a new system of teaching, which is adapted to the previous experience of each person.

This innovative system combines three of the most important styles of golf in Europe, the Swedish, English and Spanish. This way we can pick the best bits and form it into one, which we can then apply on the golf course. The methods of teaching are centred around individual training and in groups. An initial interview with the student will allow us to determine what level they are at and with the objective to improve.
In addition, the team that forms part of the new academy comes with a long and deep experience level in the golfing world. This way the long hours that they have accumulated over the years, not only as players but also as trainers, is practiced and expressed in their passion for this sport.

Pro Shop
At the pro shop in the main golf clubhouse or at the West Course you will find an extensive selection of golf equipment, clothing and accessories.
They also have equipment hire service (clubs, trolleys, buggies, etc)
5* Hotel Príncipe Felipe also has a Golfino shop.

Dress Code
• Golf attire should be neat, tailored and consistent with the standards of the Club and tradition of the game of golf.
• The use of t-shirts, sleevelees t-shirts ( mens only), jeans, athletic apparel, bathing suits and short above the knee length is forbidden.
• Flip-flops and sandals are not permitted in the premises of the Club.
• Denim jeans are acceptable in the Clubhouse only if they are neat & tidy, are of uniform colour and are free of any fraying, holes, rips or tears.
• Soft spikes are compulsory on the golf course at all times. No metal spikes or other athletic shoes are permitted.
Get a price quote for a golf holiday including La Manga Golf