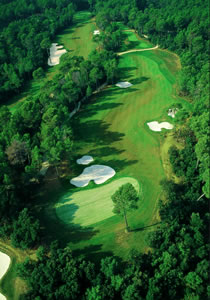 Aerial View of Real Club de Golf El Prat
Real Club de Golf El Prat:
Facts and Figures
Open (Abajo+ Arriba):
18 holes, Par 72

Black
6672 m, VC: 76 Slope 134

White
6372 m, VC: 75, Slope 135

Yellow
6055 m, VC: 72.8, Slope 130

Orange
5075 m, VC: 71.2, Slope 126

Blue
5451 m, VC: 75.5, Slope 133

Red
5109 m, V: 73.4, Slope 128

Pink
4828 m, V: 71.3, Slope 126
Blue (Piscina + Bosque):
18 holes, Par 72

Black
6466 m, VC: 74.1 Slope 135

White
6187 m, VC: 72.6, Slope 130

Yellow
5898 m, VC: 71.1, Slope 127

Orange
5606 m, VC: 69.6, Slope 124

Blue
4968 m, VC: 73.5, Slope 126

Red
5057 m, V: 71.9, Slope 125

Pink
4722 m, V: 69.7, Slope 121
Course Design:
Greg Norman Golf Course Design
Facilities:
Paddle Tennis, Bridge Room, Lounge Areas and Changing Rooms, Wellness Centre, Driving Range and Practice Area, Pro Shop, Swimming Pools
The practice area has the following facilities:
• Driving range more than 300 metres long and with capacity for 50 people.
• Approach area with bunkers.
• Two large putting greens.
• Three short practice holes.
Rentals:
Club Hire (wide selection) and GPS Buggy Hire (60 buggies available).
Restaurants and Bars:
Snack Bar, Palos Bar, English Restaurant-Bar, Restaurant, Pool Bar, Family Restaurant
Turf:
Greens: Bentgrass with a variety of Agrostis Estolonífera A4, the grass used at the Augusta (constructed following the USGA methods using National).
Tees and Fairways: Bentgrass with Agrostis Estolonífera Pennway
Rough: mixture of Tall Fescue and Kentuky Bluegrass with varieties 95% Festuca Arundinacia and 5% Poa Pratense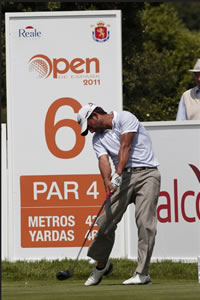 The Spanish Opens in 2011 and 2015 were held at Real Club de Golf El Prat.
Real Club de Golf El Prat
Plans de Bonvilar, 17, 08227 Terrassa, Barcelona, Spain
One of the most renowned clubs in Spain, Real Club de Golf El Prat's origins date to 1912, the year when the Count of Churruca founded Barcelona Golf Club, which subsequently became known as Pedralbes Golf Club. Years later, King Alonso XIII visited and granted the club its "Real" ("Royal") distinction.

It was the first golf club in Barcelona but, as the city grew and expanded, it was forced to move to a new location in 1954, between El Prat de Llobregat and the sea, near Barcelona airport – and was renamed Real Club de Golf El Prat.
There are five courses: Open (Abajo + Arriba), Blue (Piscina + Bosque), Yellow (Piscina + Abajo), Pink (Bosque + Arriba) and Green (1-5 Abajo +Vallés and 6-9 Abajo). They are all designed by Greg Norman Golf Course Design.The Open Course is the most demanding at the club and was the venue for the Spanish Open in 2011 and 2015. Your approach shot is important on this course as all greens are well protected and elevated. The Blue Course is the most forgiving course, although the back nine requires a more demanding strategy.
Views of El Prat Golf Course
Discount Green Fees & Book Tee Times
We offer all clients guaranteed tee times with discount green fees on Real Club de Golf El Prat.
Green Fee Rates

Book Tee Times
GPS COORDINATES:
41º 34' 12,25'' North
2º 3' 39'' East
Real Club de Golf El Prat Location Map:
Get a price quote for a golf holiday including Real Club de Golf El Prat
Costa Brava Hotels and Resorts