Son Gual Golf
Palma de Mallorca, Majorca - Mallorca, Spain
Son Gual is a unique and captivating golf course on Mallorca, with the best course conditions on the island. The quality of service is very high and the location has views of the capital city of Palma and well as the breathtaking backdrop of the Tramuntana Mountains. There is a wide variety of tee choices and the strategic layout will challenge players to use every club in the bag. Designed by renowned golf course architect and 3-time German Amateur Champion, Thomas Himmel.
The greens are large, with subtle breaks and borrows, designed to entice golfers into going for the pin. Cleverly crafted approach and run-off areas, however, demand all your concentration and best short game skills to escape with par. The golfer who attacks the flag directly will not always score well. Patience and persistence are rewarded just as much as aggression and directness.
Son Gual is a private, family-run members' golf club. Guests are welcomed warmly, but are asked to respect the club's etiquette rules, thereby ensuring the safeguarding of the course's superb all-year-round quality.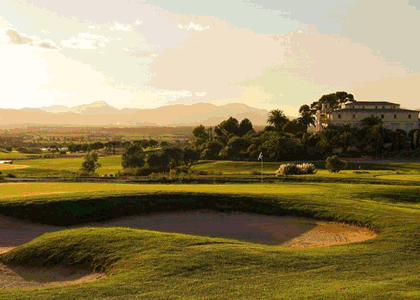 Son Gual Golf: Views of the Course

Discount Green Fees & Book Tee Times
We offer our clients guaranteed tee times with discount green fees on Son Gual Golf
Green Fee Rates

Book Tee Times
Son Gual Course Plan: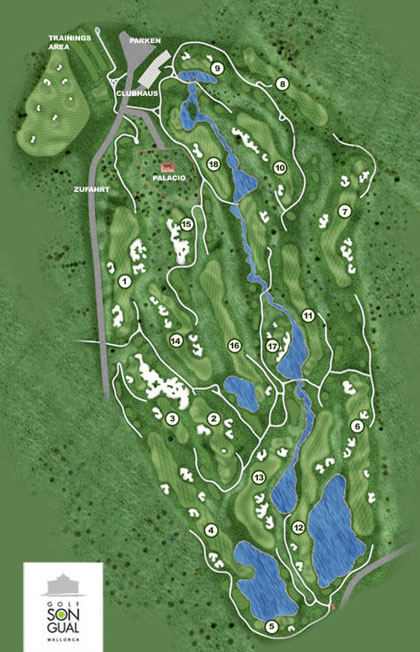 Son Gual Golf Location Map:


Get a price quote for a golf holiday including Son Gual Golf
Back to Mallorca Accommodation

Son Gual Golf's 15th hole
Son Gual Golf: Facts & Figures
18 holes, Par 72


Black 6621 m, Slope138, VC 75.7
(recommended: Men 9.0 and below)


White 6257 m, Slope 133, VC 73.5
(recommended: Men 9.0-20)




Yellow 5983 m, Slope 130, VC 72.2
(recommended: Men 20.1 and above)


Green 5745 m, Slope 137, VC 76.1
(recommended: Ladies 5.0 and below)




Blue 5475 m, Slope 134, VC 75.6
(recommended: Ladies 5.1-18.0)




Red 4961 m, Slope 127, VC 72.0
(recommended: Ladies 18.1 and above)
Facilities:
Clubhouse with terrace, bar/bistro, and restaurant, parking/bag drop , practice facility, changing rooms, lockers
Dress code:
Examples of "Acceptable" clothing:
• Hemmed walking shorts
• Sleeveless blouses with collars for women only
• Traditional slacks, khakis and jeans
• Denim shorts
• Designer warm-up suits
• Shirts with mock or traditional button collars
Get a price quote for a golf holiday including Son Gual Golf