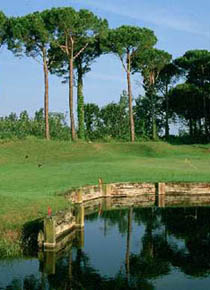 Water hole at Emporda GolfWater hole on Emporda Golf
Emporda Golf Club: Facts & Figures
Links Course:
18 holes, Par 71 (Yellow + Green)


White 6304 m, VC 73.6, Slope 131


Yellow 5971 m, VC 71.6, Slope 131


Orange 5583 m, VC 69.5, Slope 128


Blue 5311 m, VC 73.5, Slope 131


Red 5060 m, VC 71.9, Slope 127


Pink 4639 m, VC 69.0, Slope 120
Download Scorecard Emporda Links
Forest Course:
18 holes, Par 72 (Blue + Red)


White 6165 m, VC 73.6, Slope 132


Yellow 5866 m, VC 72.1, Slope 126


Orange 5515 m, VC 70.2, Slope 126


Blue 5244 m, VC 74.2, Slope 132


Red 4959 m, VC 72.6, Slope 126


Pink 4637 m, VC 71.3, Slope 123
Download Scorecard Emporda Golf Forest Course
Download Scorecard Emporda Golf Blue/Yellow
Download Scorecard Emporda Golf Red/Green
Facilities:
• Pitching green.
• Putting green.
• Driving range.
• Casa Club Restaurant.
• Hilton Resort Empordà Golf (onsite).
• Babysitter service. (subject to previous request)
• Manual and electric trolleys.
• Buggies.
• Moto golf.
• Pro shop.
• Private classes to children.
• Outdoor pool (Only high season).
• Free Wi-Fi.
• Two free parking areas: one outdoor and another covered.
• Golf school
Handicap Restriction:
Men 28, Ladies 36
Tournaments:
• 2010: Peugeot Tour Empordà Golf
• 2009: Spain Interregional Championships - Junior Men
• 2009: Individual Championship in Spain - Infant and Junior .
• 2008: Catalonia Ladies Pro-Am
• Elected Course for the Peugeot Tour de Golf, June 2007
• Hosted PGA European Tour Qualifying School final in 2002 and 2003 and PQII in 2004, 2005, 2006
Emporda Golf Club
Gualta, Girona, Spain
Emporda Golf comprises has two18 holes courses: the Links Course and the Forest (Bosc) Course, both designed by the American architect, Robert Von Hagge. The Links course has many dunes and lakes and is similar in style to a Scottish links course. The Forest course has long fairways lined with trees and ponds and is more Mediterranean in style. The quality of the greens is excellent -- they are large and have a lot of movement. The courses have many out-of-bounds off the tee, and are both challenging for all levels of player. The Empordà Golf Course is one of the best courses in the Costa Brava.
Views of Emporda Golf Course
Links Course:
Freedom, space and generosity are words that come to mind on describing this spectacular course, permanent host of the PGA Pre-Qualifying School II European Tour. Six starting tees, extensive greens and up to five different flag positions provide multiple playing options, and the layout will delight all kinds of players from amateurs to professionals. The area of lakes, dunes and bunkers confers exceptional beauty on the surroundings while, at the same time, it requires the players to use their best strokes.
Forest Course:
Shade, water, trees and silence are the key elements on this 18 hole course which wends its way among lakes and pines, under the watchful eye of the Castle of Montgrí. The course passes through a well-tended Mediterranean pinewood in the heart of an
exceptional landscape that is typical of the area. The invariable presence of the lakes and the layout of the fairways, lined with tall, native pines, are notable aspects of its design. The constant presence of water, although it sometimes presents a major challenge for golfers, does highlight the magnificence of the area.

Discount Green Fees & Book Tee Times
We offer all clients guaranteed tee times with discount green fees on Emporda Golf.
Green Fee Rates

Book Tee Times
Emporda Golf Club Map of the Course:
Click for larger map
GPS COORDINATES:
Latitude 42.013846 · Longitude 3.138142
Emporda Golf Club Location Map:


Get a price quote for a golf holiday including Emporda Golf