Praia del Rey is a picturesque course
Praia del Rey:
Facts & Figures
18 holes, Par 73 , 6405 m

Black 6434 m

White 6158 m,
Slope: 129, Rating: 72.4

Yellow 5716 m
Slope: 124, Rating: 70.3

Blue 5231 m
Slope: 123, Rating: 73.1

Red 4874 m
Slope: 118, Rating: 70.9
Download Praia del Rey scorecard
Grass Types:
Tees : Penneagle;
Fairways : Ryegrass
Greens : Penncross / Penn A4
Facilities:
Pro-shop, Driving Range Academy, Professional Tuition, Buggies (petrol & electric w/GPS), Electric Trolleys ,Pull Trolleys ,Club Hire (Branded clubs optional) , Club Repair Workshop, Clubhouse, Restaurant & Bar
Golf Academy:
24 Individual Driving-range bays, 6 Covered Driving-Range bays, Main putting green with 900 m2, Fairway Practice bunker adjacent to driving-range bays, Short-Game area with a second putting green, a pitching green which allows pitching up to 35 metres off grass, as well as two greenside practice bunkers
Environmental Certification:
The course's maintenance and operations are subject to rigorous environmental controls, and, thanks to these high standards, in 2010 the course was awarded its environmental certification by NP EN ISO 14001.
Under these guidelines, the course is actively engaged in environmental protection, which in practice means nurturing the naturally-occurring flora and fauna that grow on or near the course, using the appropriate chemicals and fertilizers, and controlling the water consumption and environmental waste that is produced.
Minimum Handicap Requirements: Handicap 36 ladies and gentlemen.

Dress Code:
Soft-spikes required. Jeans, tennis shorts, swimming trunks and t-shirts are not allowed on the golf course and/or Driving Range Academy.

Praia del Rey Golf Club
Obidos (Silver Coast) Portugal
Praia del Rey opened in June 1997 and it is certainly one of the most picturesque layouts in Europe, set in extensive grounds of pine forest and undulating dunes with spectacular views over the Atlantic and the Berlenga Islands beyond. The championship seaside links is visually stunning and tremendously exciting to play. Because of the endless variations of the terrain you'll never play it the same. Cabell B. Robinson has designed the course to be the complete golfing challenge with bold deep bunkers, undulating greens, and natural sand border areas contrasting sharply with the lush green fairways. Robinson feels very strongly that the course must be fun for everyone to play. Praia D'El Rey, has become one of the major golfing destinations in Europe, is known to be one of Europe´s best courses and was ranked among the World´s Top 100 by Golf World magazine (2011).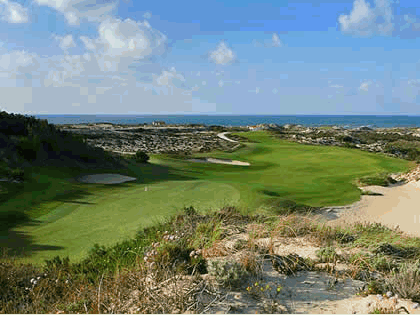 Praia del Rey Golf: Views of the course
Discount Green Fees & Book Tee Times
We offer our clients guaranteed tee times with discount green fees on Praia del Rey Golf Club
Awards:
• Top 100 golf courses in Continental Europe, Awarded by the Golf World Magazine
• Top 100 European Golf Courses - Ranked 13th by Golf World Magazine
•Top 100 World Golf Courses - Ranked 80th By Golf World Magazine

Praia del Rey Golf Club Location Map:



Get a price quote for a golf holiday including Praia del Rey Golf Club
Lisbon, Cascais & Silver Coast Accommodation