Lorca Golf Course Packages
Purias, Lorca, Murcia, Spain
Golf Sun Holidays' Unlimited Golf Package including Lorca Golf Course:
5 or 7 nights accommodation at the Aguilas de los Collados Apartments in Aguilas on a self catering basis, with 4 or 5green fees at Lorca Golf Course:
Please enquire for current prices
Enquiries: Lorca Golf Course Golf Package
We offer packages in conjunction with Lorca Golf Course at Aguilas de los Collados apartments (Aguilas), Hotel Puerto Juan Monteil 4* (Aguilas) and Parador de Lorca 4* (Lorca).

Lorca Golf Course Packages: Accommodation, Amenities and nearby attractions.
Especially recommended for: couples, foursomes, families, golfing groups.
Resort Golf: Lorca Golf Course
Recommended Golf Nearby:Alhama Signature (43 mins) , El Valle (63 mins) , Hacienda Riquelme (76 mins) , Hacienda del Alamo (60 mins), La Torre (69 mins) ,Mar Menor Golf (62 mins) , Roda Golf (72 mins), Saurines de la Torre (68 mins), La Manga Club Golf (72 minutes)
Special Golf Offer:
Golf Sun Holidays offers reduced green fees for all clients on Lorca Golf, Alhama Signature , El Valle, Hacienda Riquelme , Hacienda del Alamo, La Torre ,Mar Menor Golf , Roda Golf , Saurines de la Torre (15 min) , La Manga Club
Lorca Golf Course Location Map:
Get a price quote for a golf holiday including Lorca Golf Course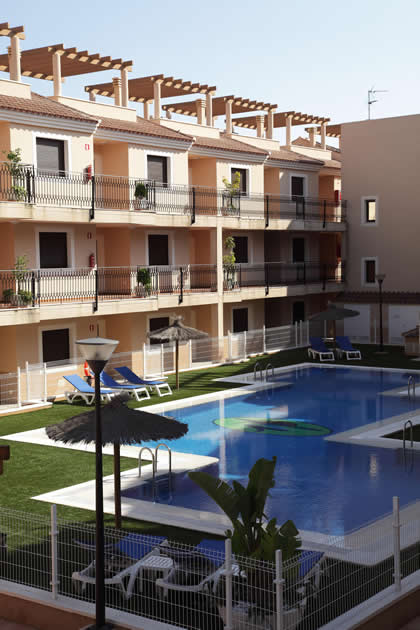 Aguilas de los Collados Apartments
Lorca Golf Course:
Facts & Figures
Accommodation:
Aguilas de los Collados apartments:
The facility is located in Aguilas city, we offer 87 2-bedroom apartments fully equipped. All of them have separate, fully equipped kitchen, living room and terrace.
All apartments have air conditioning, heating, optional safe and free WiFi.
Restaurant, cafe-bar, snack bar. Reception open: 9:00 to 14:00 and 17:00 to 20:00. After hours arrivals: please inform.

Hotel Puerto Juan Montiel 4*: Hotel Puerto Juan Montiel, Spa and Nautical Base (4*) is situated on the Aguilas seafront in an excellent location on Murcia's Costa Calida, opposite Juan Montiel Marina. The establishment offers a spa, buffet restaurant, tavern, events rooms that can accommodate up to 400 people, padel tennis courts, mini-golf, diving, and schools for sailing, windsurfing and kayaking. Enjoy relaxation, leisure and fun at the beach.

Parador de Lorca 4*:
Built on the site of Lorca Castle, this Parador de Turismo offers visitors the chance to embark on a journey through time, from the archaeological site located under the hotel and completely integrated into the building, to the magnificent designer facilities, indoor swimming pool and modern spa. Remnants of the past include a 15th-century synagogue, Muslim cistern, Almohad walls and castle citadel known as the Fortaleza del Sol (Fortress of the Sun), which has been converted into a themed cultural and entertainment space with exhibitions, living history reenactments, workshops, children's areas, and more.
Golf:
Lorca Golf Course The 18 hole golf course, par 71, designed by Dave Thomas has extensive, undulating greens and strategically placed bunkers which provide entertainment and excitement at every turn, with pleasant surprises awaiting the golfer at every hole. Since the official opening day, this golf course has hosted several tournaments, strengthening its position as one of the favorites for professionals and amateurs alike and has also received wide news coverage by the most important regional and national mass media.

Nearby:
There are two cities near the golf course:
Aguilas city is 10 minutes away from the golf course. Aguilas has much to offer to both visitors and residential tourists: a fascinating history, beautiful landscapes, the clear water of the Mediterranean, shopping centers, the gastronomic delights of the area and the warm climate to name but a few. You can find 36 beaches on the 28 kilometres of coastline in Águilas, what else do you need?

The city of Lorca is embedded in history; it is a modern city with a rich monumental and cultural heritage. It is a short 10 minutes drive to Lorca which has many restaurants.

Nearby Activities:
Culture, nature and hiking, traditional festivals, gastronomy, history, etc. Beaches are 10 minutes away.
Location:
Lorca Golf Course is 66 minutes from Murcia airport and 78 minutes from Almeria airport.
Get a price quote for a golf holiday including Lorca Golf Course