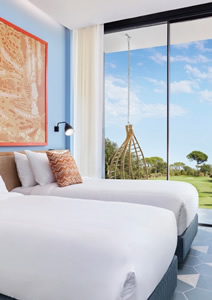 All rooms have twin beds with view to the golf course
Lavida Hotel at PGA Catalunya Resort:
Facts & Figures
Key Features:
• Free Ultra-Fast Wi-Fi
• Monsoon Shower
• Internet Ready LED Smart TVs
• In-Room Sound System
• Apple & PC Hookups
• Lounge / Tapas Bar
• Outdoor Terrace/Heated pool
• Private Balcony
• Hassle free check in at the Bar

PGA Catalunya Resort Facilities:
• Tour Course/Stadium Course
• Fishing Points
• Running Circuits
• Tennis & Padel
• Clubhouse Bistro & Bar
• Gym & Wellness Spa
• Forest Adventure Park
• Pure Food Market
• Hotel Camiral with 1477 Restaurant & Bar

Rooms:
If you like great beds, design details, a large shower, the latest high-tech visual and audio gadgets, and ultra-fast Wi-Fi, then these rooms are for you — individually created so you can tune in, turn on, or simply tune out. Each of the 50 rooms come with twin beds, a balcony with views over the course, TV, Wi-Fi, minibar and a specially designed golf storage area.
• Complimentary Ultra-Fast Wi-Fi 100MB/BW
• 300-Thread, Egyptian Cotton Bedding
• Sumptuous pillowtop mattress
• Large Back-lit Bathroom Mirror
• Golf Club Storage
• Bespoke luxury Bath Products
• Built-in Hair Dryer & Straightener
• Internet Ready LED Smart TVs
• In-Room Sound System
• Apple & PC Hookups
Bar
The bar's buzzing atmosphere is an ideal place for a post-golf pint or to enjoy our tasty tapas menu.

While you are staying at Lavida Hotel, take the opportunity to indulge at the fine dining restaurant at Hotel Camiral, enjoy a relaxed meal at The Clubhouse' Bistro restaurant or create a picnic from the Pure Food Market.

Restaurant
Located in the heart of the beautiful PGA Catalunya Resort, Bella's restaurant is the perfect modern dining experience for breakfast & dinner.
The Mediterranean-inspired menu boasts a mouth watering array of freshly made rustic Italian pizzas, using home grown seasonal ingredients baked in-house daily on homemade ciabatta-style slow-proved dough!
There is also a variety of seasonal oven-cooked dishes, antipasti and varying daily specials. All of the dishes use a combination of fresh ingredients from our own kitchen garden and local suppliers.
The dining area is a laid back affair, and our popular bar area is favoured destination for classic cocktails, beers, and wines by the glass. Alongside the bar and restaurant, the outdoor terrace provides a little green haven while the rooftop terrace is the best place to soak up the great Girona sunset!
Every Friday night enjoy beer and wine tasting presented alongside a range of delicious dishes hand picked and paired by the chef.
Nearby:
Girona (15 km): Arab Baths, Jewish Quarter, Cathedral
Location:
The location is 15 km from the city of Girona, a great starting point for visiting the beaches on the Costa Brava, 40 km. from France, and 85 km. from cosmopolitan Barcelona. Girona airport is only 7 km. away.
Golf Offers:
Golf Sun Holidays offers discounted rates for clients staying at Lavida Hotel on PGA Golf Catalunya (36 holes), Tour and Stadium courses, Girona Golf, Golf D'Aro, Emporda Golf Club, Platja de Pals Golf, Peralada Golf.
Lavida Hotel at PGA Catalunya Resort
Carretera N-II km 701,
17455 Caldes de Malavella, Girona, Spain
This new 50-room purpose-built hotel is located in the stunning surrounds of the PGA Catalunya Resort, a leisure paradise. Lavida Hotel is all about giving you everything you need and nothing you don't. Ultra-elegant decor with luxury details, buzzing communal spaces and high-tech features.
Perfectly located at the gateway to Catalunya, PGA Catalunya Resort offers two excellent championship golf courses on site, PGA Catalunya Stadium and PGA Cataluna Tour. There are also outdoor pools, fishing points, racquet sports and a new Forest Adventure Park — get ready for an adrenaline rush!
Explore the greenways around the resort on mountain bikes or venture further afield on horseback. Breaking the mould, Lavida Hotel makes this luxury destination accessible without compromises.
Lavida Hotel: Accommodation and Amenities
Especially recommended for: couples, foursomes, golfing groups, families, conventions
Resort golf: PGA Golf Catalunya (36 holes), Tour and Stadium courses
Nearby golf: Girona Golf (22 mins) , Costa Brava Golf (29 mins), Golf D'Aro (40 mins), Torremirona Golf (42 mins), Emporda Golf Club (48 mins), Peralada Golf (48 mins), Platja de Pals Golf (56 mins)
GPS COORDINATES:
Lat 41º54,2'N / Long 002º45,5'E
Location Map for Lavida Hotel:

Get a price quote for a golf holiday at Lavida Hotel
Back to Costa Brava accommodation