Evolutee Royal Obidos Hotel & Spa
Official Rating: 5 Stars
Obidos, Portugal

Golf Sun Holidays Evolutee Royal Obidos Hotel & Spa Golf Packages:
7 nights accommodation in a double room (lagoon view) at the 5-star Evolutee Royal Obidos Hotel, Spa & Golf Resort, daily breakfast included, 5 rounds of golf on your choice of Royal Obidos, Praia del Rey, Bom Sucesso and Campo Real golf courses:
Please enquire for current rates
Enquiries: Evolutee Royal Obidos Hotel Golf Package
Evolutee Royal Obidos Hotel & Spa: Accommodation & Amenities
The majesty of the Royal Óbidos Spa & Golf Resort's natural setting is undeniable. Skirting Portugal's Silver Coast, a few minutes from the beach, practically touching the Lagoa de Óbidos, the 336-acre site is close to the medieval town of Obidos, occupying a truly enviable position, only 45 minutes from Lisbon.
The resort includes a five star hotel, with spa and conference rooms. The 18 hole championship golf course designed by Seve Ballesteros offers magnificent golf and ocean views, a clubhouse with pro-shop, restaurant, bar, members' lounge and a large terrace with incredible views over the golf course and the ocean beyond.
Especially recommended for:
Couples, foursomes, golfing groups, families and conferences.
Resort golf:
Royal Obidos,18 holes championship course, par 72.
Recommended nearby golf:
Praia del Rey golf course, (6.7 km) , Bom Sucesso (6.6 km), Camporeal Golf (57 km)
Golf Offers:
Golf Sun Holidays offers reduced green fees on the following golf courses for clients staying Evolutee Royal Obidos Golf & Spa Resort: Belas Golf, Bom Sucesso Golf, Camporeal Golf, Estoril Golf, Lisbon Sports Club, Oitavos Dunes, Royal Obidos, Penha Longa, Pestana Beloura, Quinta da Marinha
Evolutee Royal Obidos Hotel & Spa Resort Location Map:


Get a price quote for a golf holiday at Evolutee Royal Obidos Hotel & Spa
Back to Lisbon, Cascais & Silver Coast Accommodation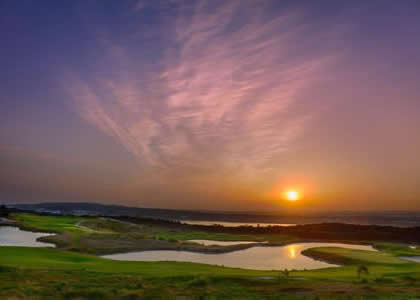 Sunset over front nine at Royal Obidos Golf Course

Evolutee Royal Obidos Hotel & Spa:
Facts & Figures
Facilities at the Royal Obidos Resort:
Evolutee Hotel and Royal Óbidos Spa & Golf Resort has a wide range of facilities and amenities for the use of guests and owners.
• 24 hour reception
• Room Service
• Elemental Spa
• Indoor swimming pool
• Outdoor swimming pool
• 24 hour gym
• KOBE Steak & Sushi Restaurant
• Kobe bar
• Lobby Bar
• Pool Bar
• Open air terrace
• Conference Centre
• Shop
• Wi-fi internet access
• Laundry and dry cleaning
• Ground floor parking
• Royal Obidos 18 hole golf course
• Golf clubhouse with pro-shop
• "The Legend" Restaurant at the Clubhouse
• Ancillary golf services such as Driving Range Academy and Professional Tuition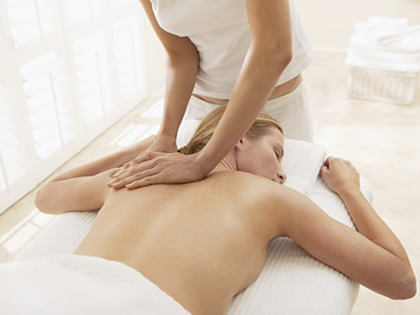 Elemental Spa at Evolutee Royal Obidos Hotel & Spa
Leisure Facilities:
Elemental Spa:
With a design inspired by the Element of water and the beauty of the natural Ocean and Óbidos lagoon surrounds, the Elemental Spa offers guests a restorative experience embodying purity, harmony and tranquillity.
Awaken your senses with exclusive treatments using regionally sourced natural products such as chocolate, sour cherries, wine, pears, apples and many others. Discover our signature rituals and be entranced, while restoring your mind and body to the optimum state.
At your disposal are an indoor heated pool, Finnish sauna, steam bath with aromatherapy, relaxation room and a vast menu of personalized and exclusive treatments, with selected Éminence Organic Skincare products.
Exclusive in Portugal, Éminence products are the perfect complement for the treatments offered at Elemental Spa. Indulge in a treatment at Elemental Spa and experience the same results as Hollywood stars.
Leisure Centre:
Besides the Evolutee Hotel Spa, gym and swimming pools, the resort offers a sports centre comprised of two tennis and two paddle courts, multi use games & sports area as well as a bowling green. The facilities will occupy a breathtaking position overlooking the golf course and Óbidos lagoon where water sports and family beach activities are available.
Royal Obidos Golf Course:
18 holes championship course, par 72. The golf course at Royal Óbidos Spa & Golf Resort was designed by one of the greatest golf legends of all time: Seve Ballesteros. It was ranked in the Top 100 courses in Continental Europe 2014.
Yoo Studio:
The yoo Studio is a dynamic design house with experience of cutting-edge design in over 29 countries. Serving the yoo tribe internationally, the studio has created landmark signature residences and hotels alongside collaborations with yoo Creative Directors. This gives yoo Studio a unique design DNA that could only come from working with the world's leading design visionaries.
The yoo Studio's experience is enhanced by its diversity of over 20 architects, interior and product designers with big imaginations, providing a choice of looks and styles to suit the lifestyles of today's modern dwellers. They only source the best quality fittings and furniture from around the world to create interiors that are imaginative, rare and individual - just like you.

About yoo:
Founded in 1999 yoo is a collaboration of ideas; the experience of the world's most celebrated designer, Philippe Starck, matched with the vision of international property entrepreneur John Hitchcox.
These two leaders in their field came together with a single ground breaking concept: to harness the creative diversity of Starck, with the innovative buildings developed by Hitchcox.The idea is yoo. yoo designs extraordinary places that free people to live the way they want to.
Shop:
Perfect for a unique souvenir with local soul, the gift shop offers Vista Alegre ceramics, Atlantis crystals and traditional Bordallo Pinheiro pieces.
Accommodation at the Royal Obidos Resort:
Evolutee Hotel offers 36 luxurious double bedrooms, inspired by the best the West of Portugal has to offer. The sophisticated interiors by yoo Studio offer an intriguing mix of natural and contemporary elements, creating a sumptous and relaxing environment. All the rooms have balconies with views over the East to the Óbidos Lagoon, the largest and most beautiful in Portugal, or to the infinite landscape over the Atlantic and the golf course.
Room features:
• 40 square metres
• 2 beds with occupancy for up to three persons
• Luxury bathroom with shower and bathtub
• Balcony
• Air conditioning
• Mini bar and espresso coffee machine
• Room service
• Robes and slippers
• Hair dryer
• Flat screen television
• Cable & Satellite TV
• In-room safe
Complimentary Wi-Fi
Suites and Master Suite:
The two suites and the master suite deliver singular and exclusive comfort. Their generous areas were carefully designed to guarantee a relaxed and spacious experience for families and for special occasions. With ample private balconies, the suites have magnificent views over the ocean, the Berlengas islands and the golf course.

Suites features:
• 62 square metres
• 1 king size bed with occupancy for up to three persons
• Living room
• Luxury bathroom with shower and bathtub
• Balcony
• Air conditioning
• Mini Bar and espresso coffee machine
• Room service
• Robes and slippers
• Hair dryer
• Flat screen television
• Cable & satellite TV
• In-room safe
• Complimentary Wi-Fi

Master Suite features:
• 83 square metres
1 king size bed with occupancy for up to three persons
Restaurants & Bars:
KOBE Steak & Sushi Restaurant:
Kobe Restaurant at Evolutee Hotel offers a dynamic Steak and Sushi menu in a refined environment with decoration inspired by traditional Portuguese ceramics. Indulge in fantastic wines while tasting a fine combination of local and Eastern flavours, all the while taking in the stunning vistas of the golf course and Atlantic Ocean.
Breakfast: 7am - 10:30am
Weekend: 7:00am - 11am
Lunch: 12:30pm - 3:30pm
Dinner: 6:30pm - 10pm

KOBE Bar:
With elegant banquette seating in lime washed oak and white leather, chandeliers and a feature mirror with traditional ceramic plates, this intimate area is perfect for a drink before dinner at Kobe Restaurant.
Operational Hours: 6pm - 12am

Lobby Bar:
To relax, enjoy a glass of local wine or one of the daily cocktails in front of our fireplace while marvelling at the stunning golf course and ocean vistas.
Operational Hours: 10am - 2am

Pool Bar:
The Pool Bar, located next to the outdoor pool, serves light meals and allows you to enjoy Evolutee Hotel's stunning pool and gardens.
Hours: 11am - 8pm
Nearby:
Obidos:
The beautiful location of Óbidos is immersed in history offering the Manueline-style castle, and ancient defensive walls which encircle narrow cobbled streets lined with whitewashed, bougainvillea-draped houses. An important medieval fishing and trading port, Óbidos was, in 1282 AD, given as a wedding gift by the King of Portugal Don Dinis to his new wife Dona Isabel. The town is also a kilometre north of the ruins of a Roman town, Eburobrittium. Nearby you will find the stunning Lagoa de Óbidos, the largest lagoon in Portugal and a renowned water sports centre.
Watersports:
Surfers and divers can head to neighbouring Peniche and the Berlengas Islands to satisfy their needs.
The lagoon is the perfect spot for practicing windsurfing, kitesurfing, catamaraning, canoeing, wakeboard and water skiing.
Beaches:
Lagoa de Óbidos:
Óbidos Lagoon offers excellent conditions for sailing, rowing and windsurfing, and also has various schools dedicated to these activities.

Bom Sucesso:
Beach located between the sea and Óbidos Lagoon, where the waters of the river and the sea join. It offers a nice leisure area, a volleyball court and a beach kiosk.

São Bernardino:
Small white sandy beach, with some rocks, surrounded by cliffs. The beach and beach bar are popular among tourists.

Consolação:
Extensive white sandy beach, with clear water and good conditions for surfing. With many typical restaurants to enjoy a nice meal of fresh fish and seafood.

Supertubos:
Amazing beach at the southern entrance of Peniche, surrounded by dunes. With waves reminiscent of the North Shore Hawaiian Banzai Pipeline. Populated by surfers and fishing fans. On spot a beach club with a wonderful terrace and fantastic evening entertainment.

Rei Cortiço:
Beautiful beach surrounded by dunes and interesting rock formations. It has a small bar/restaurant with typical dishes. Very popular for surfing and bodyboarding.

Béltico:
A long white sand beach, located next to a luxury resort surrounded by dunes.
Get a price quote for a golf holiday at Evolutee Royal Obidos Hotel & Spa
Back to Lisbon, Cascais & Silver Coast Accommodation