Dolce CampoReal Golf Resort & Spa
Turcifal 2565-779, Silver Coast, Portugal
Official Rating: 5 star
Group: Dolce Hotels and Resorts
Golf Sun Holiday's Dolce CampoReal Golf Packages:
7 nights accommodation in a double deluxe room at the 5-star Dolce CampoReal Lisboa Golf Resort, Turcifal, Portugal, with breakfast daily, including 5 rounds of golf on your choice of CampoReal, Royal Obidos, Praia d'el Rey and Bom Sucesso Golf Courses:
Please enquire for current rates
Enquiries: CampoReal Royal Golf Package
3 nights accommodation in a double deluxe room at the 5-star Dolce CampoReal Lisboa Golf Resort, Turcifal, Portugal, with breakfast daily, including 2 rounds of golf on your choice of CampoReal, Royal Obidos, Praia d'el Rey and Bom Sucesso Golf Courses:
Please enquire for current rates
Enquiries: CampoReal Royal Golf Package
7 nights accommodation in a double deluxe room at the 5-star Dolce CampoReal Lisboa Golf Resort, Turcifal, Portugal, with breakfast daily, including 6 rounds unlimited golf on CampoReal Golf Course:
Please enquire for current rates
Enquiries: CampoReal Unlimited Golf Package
Unspoiled countryside and lush green vineyards. A mild sunny climate. Portugal's best beaches minutes away. A short drive to cosmopolitan Lisbon. The CampoReal Golf Resort & Spa could not be better situated for your pleasure and convenience. Experience the glorious rural setting as a backdrop to the challenging 18-hole golf course or by horseback thanks to the Equestrian Center. Ready to relax? Get pampered at the serene spa, lounge by the pools, or visit nearby beaches. CampoReal's luxury resort is set in the stunning Silver Coast of Portugal. Within the hotel there are 151 well appointed bedrooms, plus 116 Residences that include apartments, townhouses and villas. Each space is beautifully decorated in a modern Portuguese style.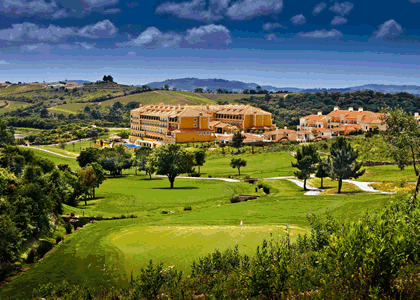 Camporeal Hotel: Accommodation and Amenities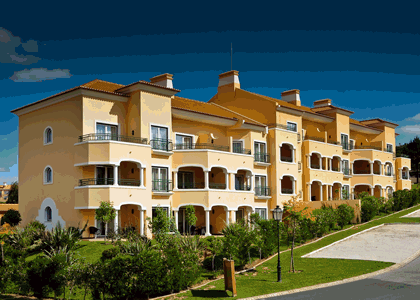 Camporreal Residence Accommodation
Especially recommended for:
Couples, foursomes, golfing groups, families.
Resort golf:
Golfers of every level will enjoy the challenging holes and stunning scenery of the 18-hole, par 72 CampoReal golf course. Renowned golf architect Donald Steel designed it to integrate beautifully into the dramatic natural terrain surrounding the resort. Driving Range and Practice Area.
Recommended nearby golf:
Praia del Rey golf course (57 km), Bom Successo (57 km), Penha Longa Golf Club 68 km, Beloura (Pestana Golf) 62 km, Royal Obidos (57 km), Quinta da Marinha Golf (73.7 km)
Golf Offers:
Golf Sun Holidays offers reduced green fees on the following golf courses for clients staying Camporeal Golf Resort & Spa: Belas Golf, Bom Sucesso Golf, CampoReal Golf, Estoril Golf, Golden Eagle, Oitavos Dunes, Royal Obidos, Penha Longa, Pestana Beloura, Quinta da Marinha
CampoReal Golf Resort & Spa Location Map:


Book a golf holiday at Dolce CampoReal Resort
Back to Lisbon, Cascais & Silver Coast Accommodation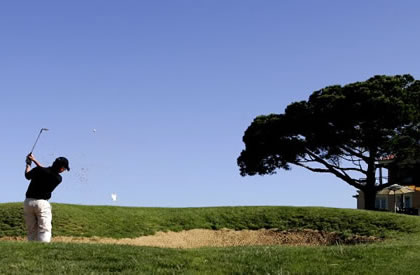 CampoReal Golf Course is on site
CampoReal Golfe & Natureza:
Facts & Figures
Leisure activities:
With a stunning outdoor infinity pool, an indoor pool, 24-hour fitness gym, tennis courts and five-a-side football pitch, your stay can be as relaxed or active as you choose.
Hotel Accommodation:
CampoReal's hotel boasts 151 elegant guestrooms including double, single, twin and suites. The rooms have been tastefully decorated in neutral tones and comfortable furnishings, offering a beautiful space where guests will be able to relax.
Bedrooms feature all the amenities you would expect, including:
• Air-Conditioned Room
• Wireless High Speed Internet Access in All Guest Rooms (Charge) Room with Sitting Area
• Soundproof Room
• LCD Flat Panel Television
• The separate Shower and Bathtube
• Hairdryer
• Closet
• Handicap Accessible Room
• Individual Climate Control
• 24-Hour Room Service
• In-Room Safe
• Radio/Alarm Clock on TV
• Bathrobes & Slippers
• Mini Bar
• Telephone
CampoReal Residences:
CampoReal's five star Golf Resort & Spa offers high quality 116 self-catering villas, apartments and townhouses.

Enjoy all the amenities the hotel has to offer while staying at one of the beautiful decorated residences. The rooms are provided with voice mail, high speed internet connection, refreshment center and in-room movies. The luxury suites feature separate living room and bedroom areas, many with balconies and/or terraces.

CampoReal Residences:
• 1 Bedroom Residence - Apartment
• 2 Bedroom Residence - Apartment or Townhouse
• 3 Bedroom Residence - Townhouse
• 3 Bedroom Residence with Private Pool - Townhouse
• 4 Bedroom Residence with Private Pool - Villa

Each Residence includes:
- Private bathroom(s)
- Kitchenette (Kitchen available in the 4 bedroom villa)
- Balcony or garden
- Swimming-pool shared by apartment/townhouse block (private swimming-pool in the 3 and 4 Bedroom Residence with Private Pool)

So if you value privacy and comfort, this is your best choice - especially if you are bringing along your family and friends!
Accommodation Amenities:
Experience a special blend of Mediterranean warmth and CampoReal's signature elegance and service. Top-of-the-line technology includes sleek LCD televisions, VOiP telephones, and wireless High Speed Internet Access in every space. Each is furnished in a warm, sunny style, and most boast gorgeous views of our golf course to soothe and inspire. We promise that a stay here will warm your soul and create unforgettable memories.

CampoReal didn't discover fresh air, but are proud to offer smoke-free guest rooms at this hotel.

All services listed below are available at the hotel, some upon request. Please note any special requests in your reservation or arrange with Golf Sun Holidays prior to arrival.

Entertainment
• Radio/Alarm Clock on LCD TV
Bed Features
• Hypoallergenic Pillows
• Duvet Cover
Bathroom
• Spacious Bathroom
• Bathrobes & Slippers
• Hairdryer
• Deluxe Bath Amenities
• Make-up/Shaving Mirror
• Bidet in Bathroom
• Separate Tub and Shower
• Office/Telecom
• LCD Flat Panel Television
• Wireless High Speed Internet Access in Guest Rooms (Charge)
• VOiP Telephone with Direct Dialing and Voicemail
Dining
• Coffee Maker
• Mini Bar
• 24-Hour Room Service
Room Features
• Air Conditioning with Individual Climate Control
• Windows that Open
• Courtyard View Room
• Non-Smoking Room
• Rich Fabrics
• Desk
Golf Course View Room
• Room with Sitting Area
• In-Room Safe
• Rollaway Beds (Charge)
• Closet
• Connecting Room
Disability Features
• Accessible Shower and/or Bath
• Disability Accessible Rooms
Room Amenities & Services
• In-Room Smoke Detectors
• Iron/Ironing Board
• Valet Service
• Turndown Service
• In-Room Sprinklers
• Maid Service
• Personalized Wake-Up Service
Restaurants & Lounges:
The hotel has three restaurants and two bars serving delicious local European food and a selection of the finest drinks. Alternatively, room service is available 24 hours a day, so it is easy to indulge in a late breakfast or a midnight snack.
Restaurants & Bars:
CampoReal has a choice of three restaurants and two bars, each enjoying outside seating for alfresco dining during the warm summer months.
• The Clubhouse – sit out on the terrace to enjoy the views over the course as you refuel after your round.
• Manjapão – a relaxed, family-friendly environment offering a delighful breakfast buffet everyday.
• Grande Escolha –a fine restaurant where head chef serves up the authentic portuguese food and drinks. The restaurant also features an intimate private dining area for special occasions.
• The Library Bar – an elegant bar for afternoon tea or the finest pre and post dinner drinks.
• The Pool Bar – open during the summer months for delicious cocktails, relaxing light lunches and day-time snacks.
Enjoy free Wi-Fi internet available in the Libray Bar, Lounge and Clubhouse!
Please note that changes in restaurants and bars opening/closing hours/days may occur without prior notice.
Family Holidays:
CampoReal is an excellent holiday destination for family holidays in Portugal. Within the resort, there are plenty of activities to entertain children and adults of all ages for days on end.
If you are interested in horse riding, Cuca and Miguel at the CampoReal Equestrian Centre provide professional lessons for all ages and abilities. Weekly classes are run for children in the summer, with the chance to enter into competitions.

Happy Faces offers exciting indoor and outdoor experiences:
• table soccer
• table tennis
• petanque
• darts
• table games
• other
Just a short drive from the resort, the local area offers impressive castles to explore, along with the wonderful beaches of the Silver Coast for swimming in the summer or wonderful walks in the winter, picnics and family games.
Nearby:
The nearest village, Turcifal, has a charming old quarter and hosts local festivals and celebrations. Surrounded by fertile soil, it is renowned for its exceptional white and red wines. Nearby is Torres Vedras, the region's lively commercial center, famous for its hilltop fortresses—the Lines of Torres—built by the Duke of Wellington to defend against Napoleon's troops. Venture a bit further to discover a wealth of fascinating historic towns, including Óbidos, Mafra, and Sintra, Portugal's jewel and a UNESCO World Heritage site.
Nearby Beaches:
Portugal's famous Silver Coast, just 20 minutes away, has miles of beautiful beaches to delight everyone from families to surfers. Take our complimentary shuttle to Santa Cruz beach, or go by car to explore this lovely coastline on your own.
Local Attractions:
• Expo Torres (Exhibition and Convention Center) 5.0 km/3.1 miles
• Arena Shopping Mall 5.0 km/3.1 miles
• Torres Vedras 5.0 km/3.1 miles
• Ericeira 20.0 km/12.4 miles
• Mafra 30.0 km/18.6 miles
• Colombo Shopping 35.0 km/21.8 miles
• FIL - Feira Internacional de Lisboa (Exhibition Center) 40.0 km/24.9 miles
• Pavilhao Atlantico (Exposition Center) 40.0 km/24.9 miles
• Parque Das Nacoes 40.0 km/24.9 miles
• Obidos 40.0 km/24.9 miles
• Pena Palace Sintra 45.0 km/28.0 miles
• Jeronimo's Monastery 45.0 km/28.0 miles
• Sintra 45.0 km/28.0 miles
• Lisbon Zoo 50.0 km/31.1 miles
• Queluz Palace 50.0 km/31.1 miles
• Bairro Alto 50.0 km/31.1 miles
• Torre de Belem 50.0 km/31.1 miles
• Lisbon 50.0 km/31.1 miles
• Cascais 60.0 km/37.3 miles
• Casino do Estoril 65.0 km/40.4 miles
• Estoril 65.0 km/40.4 miles
•Setubal 85.0 km/52.8 miles
• Sesimbra 95.0 km/59.0 miles
Pets Policy:
CampoReal Golf Resort & Spa accepts pets in its residences, subject to availability and payment of a daily fee of €8 per day, per animal, limited to 2 animals per residence.
Please note that the resort reserves the right to not accept reptiles, insects, large size mammals and canids considered dangerous or potentially dangerous (according to the Portuguese law written on Art. 3º of DR, Decreto-Lei nº315/2009 and Art. 2º of DR, Decreto-Lei nº312/2003).
Book a golf holiday at Dolce CampoReal Resort
Back to Lisbon, Cascais & Silver Coast Accommodation