Dona Filipa Hotel
Vale do Lobo, 8135-034, Algarve, Portugal
Official Rating: 5 star
Group: JJW Group
Golf Sun Holidays Dona Filipa Hotel Free Golf Packages:
7 nights accommodation in a twin/double classic room at the 5-star Dona Filipa Hotel, buffet breakfast daily, with one round of golf per person per day on San Lorenzo Golf and/or Pinheiros Altos Golf, free hotel shuttle to/from golf , complimentary Wi-Fi internet access (connection for two devices per room per stay):
Enquire for current rates
Book Dona Filipa Hotel Package
Magnificently located overlooking the Atlantic Ocean, Dona Filipa Hotel welcomes guests of all ages with a touch of glamour combined with an essence of true quality. The Hotel is a blend of traditional Portuguese charm enhanced by all the luxuries of modern life — a combination of elegance and style. It offers 154 rooms and suites uniquely complimented by professional staff that value personalised service. The rooms overlook mature gardens with indigenous Umbrella Pines, Vale do Lobo golf course, the golden beach and the Atlantic Ocean. All rooms are appointed with modern 5-star facilities while maintaining the traditional feel of space and comfort throughout. The main feature of Vale do Lobo, besides its golf courses, is its magnificently long, red sandy beach. This shoreline stretch is approximately 5km long and characterised by a set of high cliffs made of small eroded, fractured formations. This makes this beach unique to the Algarve region.
Dona Filipa Hotel: Accommodation and Amenities
Especially recommended for:
Couples, foursomes, golfing groups and societies, families, conferences.
Resort Golf: San Lorenzo Golf Course (11 minutes drive) and Pinheiros Altos Golf (12 minutes drive). (Courtesy bus to both San Lorenzo Golf and Pinheiros Altos).
Recommended Nearby Golf: Vale do Lobo Royal and Ocean courses, San Lorenzo, Quinta do Lago North and South, Laranjal Golf, Pinheiros Altos, Vila Sol, Vilamoura Old Course, Pinhal Course, Laguna Course, Millennium Course, Victoria Course.
Golf Offers:
Golf Sun Holidays offers reduced green fees on the following golf courses for clients staying at the Dona Filipa Hotel: Alto Golf, Boavista, Espiche Golf, Gramacho, Morgado, Morgado - Alamos, Dom Pedro Old,Dom Pedro Millennium, Dom Pedro Laguna, Dom Pedro Pinhal, Dom Pedro Victoria, Palmares, Penina Golf, Pinheiros Altos, Quinta do Lago (North, South, Laranjal) Golf, Salgados, San Lorenzo Golf Club, Silves Golf, Vale do Lobo (Royal, Ocean), Vilasol Golf
Dona Filipa Hotel Location Map:


Get a price quote for a golf holiday at Dona Filipa Hotel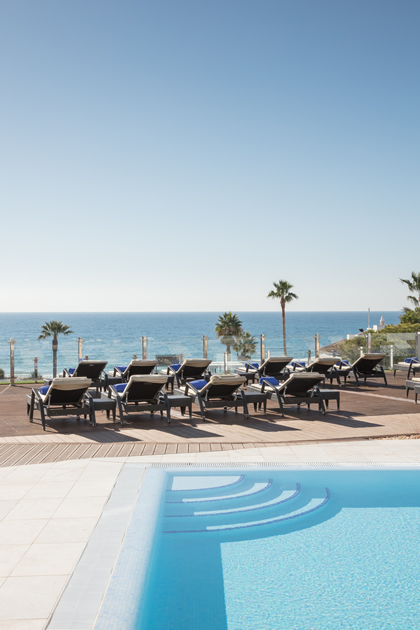 Ocean view from the pool at Dona Filipa Hotel
Dona Filipa Hotel:
Facts & Figures
Facilities at Dona Filipa Hotel:
• Swimming Pool: The Hotel's fully heated swimming pool area, with mesmerizing views to the Atlantic Ocean, is the ideal place, not only for a tan, but to read a book, relax or simply have a drink or snack.
• The swimming pool is surrounded by approximately 80 sunloungers for guests. During the summer months guests are provided with pool service and there is a pool supervisor.
• Dona Filipa Hotel's adult swimming pool is 22,50 m x 11,50 m (242 m2) and the children swimming pool is 8,50 m.

• Tennis Courts: Dona Filipa & San Lorenzo Golf Resort caters for tennis enthusiasts providing three ATP floodlit, all weather hard surface tennis courts. Tennis lessons are available with the Hotel tennis pro.

• Beach Club: Dona Filipa & San Lorenzo Golf Resort has an exclusive area and Beach Club on the Vale do Lobo beach for hotel guests, situated a mere 200 metres away.

• San Lorenzo Golf Course: San Lorenzo Golf Course, exlcusive to Hotel guests is considered as one the best golf courses in Europe and is without a doubt is one of the most beautiful in Portugal.
• Courtesy bus to San Lorenzo and Pinheiros Altos golf courses. Free of charge.

• Spa & Wellness: Dona Filipa Hotel provides guests with 2 alternatives desiring a stay orientated to relax, revitalize and unwind: our in-house facility; The Estetica or access to the Vale do Lobo Royal Spa.
• The Estetica facility offers various treatments that may be carried out at the massage & beauty facility or in the comfort and privacy of your room. Providing guests with more than 20 specialised massage and beauty treatments, the Estetica boasts of elevating guests body and mind to an excellent condition.
• Vale do Lobo Royal Spa is located 500 m from the Dona Filipa Hotel: Indulge your senses, soothe your body and revitalise your spirit with time spent in the Royal Spa saunas, hammam, steam room and Vichy shower. Then plunge into the cool, naturally lit pool, where water jets provide the perfect aqua massage. Linger in the poolside Jacuzzi or shower off and luxuriate on comfortable loungers on the spacious poolside deck.

• Business Centre: The 24-hour business center meets the needs of all busy business travellers, guests in need of a computer or internet access (a fee applies).
• 3 computer workstations (with headsets and webcams)
• 2 workstations for guests with laptops
• 2 printers
• photocopying and faxing facilities (at the Front Office)
• Hotspot internet access (WI-FI throughout the public areas)
• Kangaroo Club: The Kangaroo Club is a seasonal children's facility, functioning during the summer months until the month of November, as well as during Easter and Christmas periods. Children (from 6 months to 12 years of age) are sure to have an unforgettable time at our fully supervised and specialised children's facility.
Dona Filipa Guest Rooms & Suites:
There is unquestionably no where better to relax after a day on the San Lorenzo Golf Course.
Dona Filipa & San Lorenzo Golf Resort offers a truly unique experience in every one of its stylish guest rooms and suites. Warm terracotta tones in addition to the spacious areas create an inviting ambience for you to experience and take pleasure in.
Many loyal clients return year after year to experience this exclusive atmosphere.
• Presidential Suite: The Presidential Suite consists of two bedrooms: one twin room and another one king size bedroom. Both bedrooms have en-suite marble bathrooms, two dressing rooms, a living room and a large balcony overlooking the golf course and sea.
• Ocean Suites: The prime size Ocean Suites consist of a large open space with a sleeping area, furnished with a king size bed and sitting area. Bathrooms are equipped with a corner bathtub and a walk-in raindrop shower.
• Atlantic Suites: Spacious and comfortable Atlantic Suites are open space suites with a leisure and a sleeping area with a king size bed and a bathroom. Atlantic Suites are situated in an exclusive area of the Hotel, with a large balcony overlooking the Atlantic Ocean.
• Deluxe Suites: Deluxe Suites consist of an ample Twin bedroom with a separate lounge, two comfortable dressing rooms and two bathrooms. Some Deluxe Suite balconies may have pleasant views overlooking the hotel garden, partial Ocean views or view to the magnificent 17th Hole of Vale do Lobo Golf Course.
• Junior Suites: Junior Suites are an open space type room, yet more spacious than the Deluxe Rooms. Junior Suites consists of a bedroom area graced with relaxing sitting area. The bathing facilities are divided into 2: one with the bathing facilities and the latter with the toilet. Junior Suite balconies have views to the different surroundings of the Dona Filipa Hotel & San Lorenzo Golf Resort.
• Deluxe Rooms: Deluxe Rooms have comfortable twin or double beds (76 Twins and 7 Deluxe Rooms) and a balcony with pleasant views overlooking striking Atlantic Ocean or the Vale do Lobo Golf Course.
• Classic Rooms: Classic Rooms have comfortable twin or double beds (43 Twins and 6 Double). The standard rooms have a balcony with pleasing views overlooking the hotel garden, the winter garden or the villas. To note that Twin rooms – beds may be joined to form a double bed, at guests request.
Hotel Restaurants, Bars and Lounges at Dona Filipa:
• Primavera Restaurant: The Primavera Restaurant, Dona Filipa Hotel's main restaurant revives guests' appetites with exquisite daily buffet breakfasts and extravagant themed buffet dinners including an array of international and regional delicacies.
• Dom Duarte Grill Restaurant: The Dom Duarte Grill Restaurant, Dona Filipa Hotel's fine dining restaurant, offers a superb mixture of international and Portuguese cuisine which will definitely please any demanding gourmet lover.
• San Lorenzo Bar, The Nautical Bar and The Atlantic Bar : Guests wanting to delight themselves with an afternoon drink, evening cocktail or simply a place to relax may do so at the Hotel Bar (San Lorenzo Bar) or two adjacent Lounges (The Nautical and The Atlantic).
Services at Dona Filipa Hotel:
• 24h/24 business centre
• 24h/24 concierge
• 24h/24 room service
• 24h/24 security
• baby-sitting on request
• billiards and games room
• business and secretarial services
• car rental service (upon request)
• currency exchange
• florist service (on request)
• Golf Pro shop (at San Lorenzo Golf Course)
• parking facilities (exclusive for Hotel guests)
• personalised wake-up call
• laundry and dry cleaning
• luggage storage
• medical services
• mini golf
• Wi-Fi Internet access (complete coverage throughout the Hotel)

Please note that in accordance with Portuguese law, the resort is a non smoking property.

Dona Filipa Hotel may accept small dogs at the hotel. However, this is subject to the written approval, prior to arrival. Should this request be approved, dogs are not allowed in any of the public areas.

Some of the above services and facilities may not be available at the resort on a 24 hour basis, or without advance request, and fees on certain facilities/services may apply.
Get a price quote for a golf holiday at Dona Filipa Hotel